From the Vice Chairman, Hyundai Hope on Wheels, Scott A. Stark:
It is a pleasure to write this article for the supporters and followers of Hyundai Hope On Wheels. I am a proud Hyundai dealer in Austin, TX, for over five years. I am also honored to serve as Vice Chairman of the Hyundai Hope On Wheels Board of Directors this year. Along with my fellow 820 Hyundai dealers, this efforts is the proudest work we do. As you know, every day nearly 50 kids are diagnosed with cancer. While there are many advances in research that are saving more lives, no child deserves to have to fight the battle alone. That's why the U.S. Hyundai dealers, the Company, and thousands of customers donate to childhood cancer research in the hopes of one day finding a cure for this terrible disease.
As you may have heard that this year marks our 15th anniversary with Hyundai Hope On Wheels. In addition to funding world-class research, our goal is to create increased awareness about the cause. This year, we plan to build more public awareness about childhood cancer using social media. That's why supporters and followers like you are so important. We encourage you to follow us, "like" us, and share our stories on Facebook, Twitter or Instagram. We have a goal to create 100,000 fans onFacebook, to show kids with cancer that we are in this together.
Thank you to all of you who join us in the fight against pediatric cancer and follow us in our newsletter.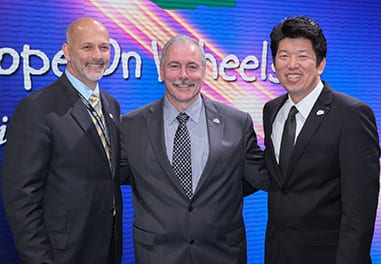 Left to right: Scott Stark, pictured with fellow Hope On Wheels Board of Directors, Gary Micallef, and Mickey Pong.
WE WANT YOUR "LIKE"!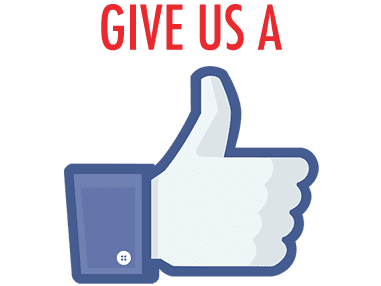 Social media has become the #1 tool in connecting people of the same interests, hobbies and passions. And we believe it is one of our most powerful tools in getting the word out about childhood cancer. This year, we are aiming to reach the 100,000 fan mark on Facebook to help shine much-needed light on childhood cancer.
This is where we need YOUR help! We encourage you to "Like" our Facebook page (if you haven't already done so) and invite your family and friends to "Like" us as well. With September being Childhood Cancer Awareness Month, we would love to see as many individuals as possible supporting the brave little heroes fighting this battle.
GRAND OPENING OF THE HYUNDAI CANCER INSTITUTE AT CHOC CHILDREN'S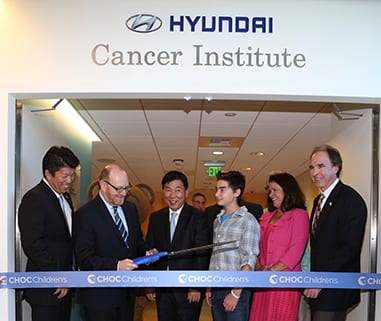 July 23 marked the grand opening of the Hyundai Cancer Institute's new location in the brand-new Bill Holmes Tower at CHOC Children's in Orange County, CA. The Institute is a result of a 5-year $10 million commitment we made in 2011. We are proud to be working with CHOC Children's in advancing treatments for childhood cancers using genomic sequencing. You can learn more about the many different programs taking place at the Hyundai Cancer Institute here.
CELEBRITIES SHOW THEIR SUPPORT FOR THE HYUNDAI CANCER INSTITUTE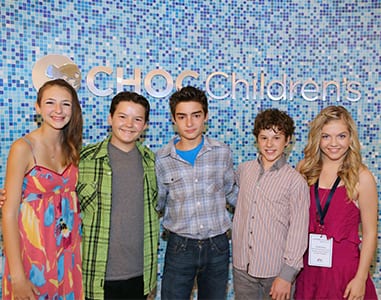 Left to right: Sammy Heim, Aedin Mincks, CJ George, Nolan Gould, Shauna Case.
A big thank you to the three celebrities who attended the grand opening event for the Hyundai Cancer Institute on July 23. Nolan Gould (ABC's Modern Family), Aedin Mincks (Disney Channel's A.N.T. Farm) and Shauna Case (Cartoon Network's Incredible Crew) an former Hope On Wheels youth ambassador, Sammy Heim, each showed their support for children with cancer. Our own CJ George interviewed the guests on Seacrest Studios, the radio station broadcasted to patient rooms across CHOC.
U.S. NEWS & WORLD REPORT RELEASES TOP-RANKED PEDIATRIC HOSPITALS FOR CANCER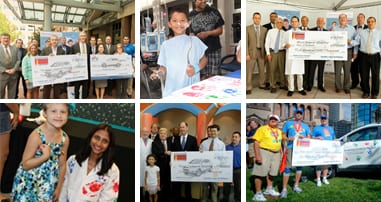 Congratulations to the children's hospitals listed in the U.S. News & World Report 2013-14 Best Hospitals List for pediatric cancer. These hospitals were ranked on three-year survival, transplant accreditation and infection prevention data from a U.S. News survey.
All of the children's hospitals listed for pediatric cancer category are also current grant recipients of Hyundai Hope On Wheels. Additionally, nearly 75% of all of the Top 50 pediatric hospitals in 2013were awarded a Hyundai Hope On Wheels grant. A special congratulations to the top three ranked hospitals on the list: Cincinnati Children's Hospital Medical Center, Dana-Farber Boston Children's Cancer and Blood Disorders Center and Children's Hospital of Philadelphia.
Click here to read the report.
ON THE ROAD: HYUNDAI SCHOLAR & HYUNDAI HOPE GRANT CEREMONIES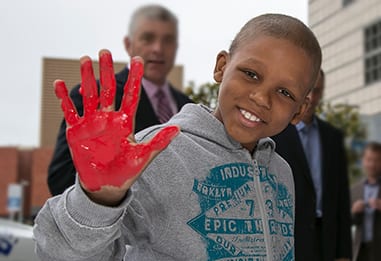 We're getting busier as September approaches and we love it! The 2013 Hyundai Scholar Grant presentations continue as we begin scheduling Hyundai Hope Grants for September. Make sure you're keeping up with us on FacebookandTwitter for photos from our events! Below are the hospitals we visited this month. You can check out photos from Hyundai Hope Grant ceremonies here and from Hyundai Scholar ceremonies here!
Cook Children's Medical Center
Levine Children's Hospital/Carolina Medical Center
Children's Hospital of Pittsburgh of UPMC
C.S. Mott Children's Hospital (see below for more information)
Vannie E. Cook Jr. Cancer Foundation
Here's a look at where we'll be in the upcoming weeks:
Peoria, IL – Children's Hospital of Illinois (8/09)
San Antonio, TX – University of Texas Health Science Center (8/13)
Kansas City, MS – The Children's Mercy Hospital (8/14)
Phoenix, AZ – Phoenix Children's Hospital (8/15)
Boise, ID – St. Luke's Mountain States Tumor Inst. (8/20)
Iowa City, IA – University of Iowa Children's Hospital (8/22)
C.S. MOTT'S RECEIVES THE SECOND HYUNDAI HOPE GRANT OF 2013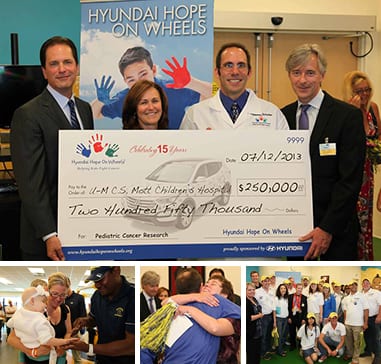 C.S. Mott Children's Hospital of Ann Arbor, MI, was this year's second recipient of the Hyundai Hope Grant. We visited them on July 12 to award Dr. Craig Byersdorfer a $250,000 check for childhood cancer research.
The ceremony was extra special as there were both new and familiar faces at the event. Among those in attendance were Hyundai's CEO & President, John Krafcik, professional triathlete, Jenna Parker, Olympic Medalist, Peter Vanderkaay, and NFL Wide Receiver, Rob Bellamy. Our wonderful friends from HATCI also lent a hand at the ceremony. You can learn more about this presentation and see additional photos on Facebook!
DOCTOR SPOTLIGHT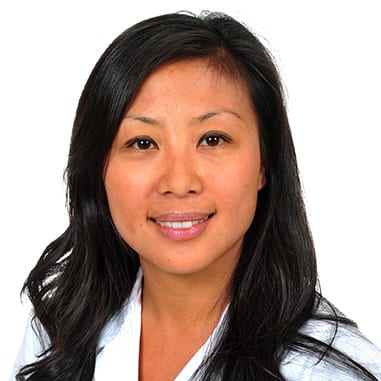 Meet Dr. Caroline Hu, an attending physician in the Department of Pediatric Hematology-Oncology at Hackensack University Medical Center. She is also Clinical Assistant Professor of Pediatrics at the University of Medicine and Dentistry in New Jersey. As a 2012 Hyundai Hope Grant winner, Dr. Hu set out to determine epigenetic methylation and gene expressions in rhabdomyosarcoma (RMS) using DNA sequencing.
A NOTE FROM JENNA PARKER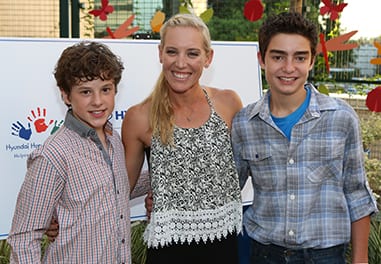 As September approaches and we gear up for Pediatric Cancer Awareness Month, I wanted to take a moment to talk about two of the inspiring events I attended in July with Hyundai Hope On Wheels.
First, I had the pleasure of visiting C.S. Mott Children's Hospital in Ann Arbor, Michigan for a Hope On Wheels Scholar Grant presentation and signature handprint ceremony. C.S. Mott Children's is known for being on the cutting edge of care, research and technology, so I was not surprised to learn that this is the second consecutive year a doctor at the hospital has been awarded a Hope On Wheels grant. One of the most moving parts of the visit was listening to a C.S. Mott Children's medical intern share his story. He lost his brother to pediatric cancer, and has chosen to dedicate his life to finding a cure. Everyone in attendance was moved by his touching speech, and it really highlighted the importance of what Hope On Wheels stands for. It stands for "hope," not just for the current and future patients and their families, but also for the doctors who are choosing to dedicate their lives to the cause.
Also in July, I was able to return to CHOC Children's in Orange County for the third anniversary celebration of the Hyundai Cancer Institute. Visiting CHOC for the second time this year was no less inspiring than the first time. As we cut the ribbon to the new Hyundai cancer wing, I was again impressed by the level of commitment and passion of the doctors, the hospital and the Hyundai team. All the people involved seem to be willing to stop at nothing to eradicate even the rarest forms of pediatric cancer. Seeing the smiles on the children's faces and watching them place their small handprints on the canvas was, as always, a reminder that every handprint tells an important and personal story. With the help of Hope On Wheels, and committed partners like CHOC Children's and C.S. Mott Children's, we hope that someday each child's story will have one thing in common: a long and incredible life, completely cancer-free.
I'm looking forward to traveling to more hospitals to meet more of the incredible kids and the talented doctors who are all fighting together against pediatric cancer. Each event is a great reminder of all of the progress being made, and how important it is to work together in this fight. With Pediatric Cancer Awareness Month right around the corner, I encourage everyone to join Hope On Wheels in this fight. Maybe I'll even get to see you at one of the Hyundai Hope On Wheels 5K events being held across the country this fall!