WE ARE ALL IN THIS TOGETHER
The current global pandemic has made the fight against pediatric cancer even more critical due to the weakened immune systems of children with cancer. This year, Hyundai Hope On Wheels will be donating $11 Million to support pediatric cancer research and drive-through testing for COVID-19. It will be through teamwork that we can end childhood cancer, and we aim to keep our children safe while doctors work tirelessly to find a cure.

Every year we like to bring hope and love to our community through a special event and because this year is different, we went bigger than ever. What would usually be a private event in Washington D.C., was a free virtual event for our annual Celebration of Hope awards ceremony. Watch what celebrity guests and musical performances we had to commemorate our supporting community.
SEPTEMBER IS

CHILDHOOD CANCER AWARENESS MONTH
How Hope Works
Through no fault of their own, cancer strikes at a time when kids just want to be kids. They have dreams, goals and so much to contribute.
Hyundai and its U.S. dealers created Hyundai Hope On Wheels in 1998. From the sale of every new vehicle, a donation is made to fight cancer. To date, more than $172 million and over 800 research grants has gone to support research at Children's Hospitals across the nation.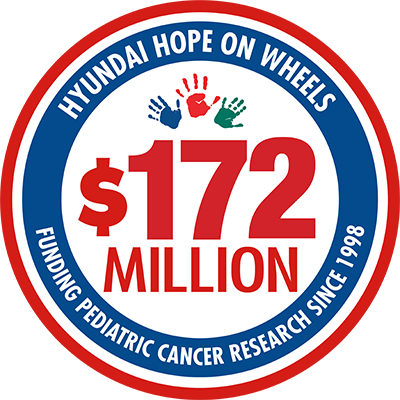 Meet Our Ambassadors
Meet Alex and Jordyn, our 2020-2021 National Youth Ambassadors. Every two years, Hope On Wheels selects two brave pediatric cancer survivors to represent the program as National Youth Ambassadors. Alex and Jordyn will join Hope On Wheels in our mission to fight childhood cancer and will travel around the US visiting children's hospitals and attending events to tell their stories of courage and hope.
Awarded Hospitals
Hyundai Hope On Wheels awards grants in Three categories to researchers at eligible Children's Oncology Group member institutions. In 2020, we will be presenting more than $11 Million in pediatric cancer research grants to hospitals across the United States.
Hyundai Scholar Hope Grant
$300,000 2-year Research Award
Competitively Selected for Translational Research
16 – 2020 Winners
Hyundai Young Investigators Grant
$200,000 2-Year Research Award
Competitively Selected for Innovative Research
10 – 2020 Winners
COVID-19 Grant
$100-200k for COVID-19 Test Centers
COVID-19 RT-PCR Tests
23 – 2020 Recipients
View awarded hospitals by grant type, hospital name, location and amount.