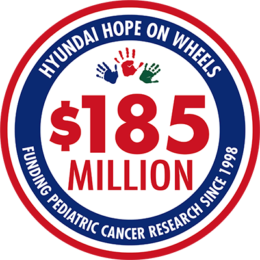 In 2021, we will have given over $185 million to researchers who are working to find the cure.
In honor of National Childhood Cancer Awareness Month this September, Hyundai Hope On Wheels will award $13 million in research grants and launch our annual campaign to create awareness. This year's theme is, "We win with hope." Since 1998, our driving force has been to bring hope to the many families impacted by this disease. #EndChildhoodCancer.
How Can You Help?
It's all about the kids. No child ever deserves to hear the words 'you have cancer.' Hyundai Hope On Wheels is dedicated to supporting pediatric cancer research that finds innovative approaches, creates discovery, and improves care for children fighting cancer.
Meet our 2020-2021
National Youth Ambassadors
2021 Awarded Hospitals
View a list of the 2021 grant recipients
Hyundai Hope On Wheels awards grants in three categories to researchers at eligible Children's Oncology Group member institutions. In 2021, we presented more than $13 Million in pediatric cancer research grants to hospitals across the United States.
View awarded hospitals by grant type, hospital name, location and amount.