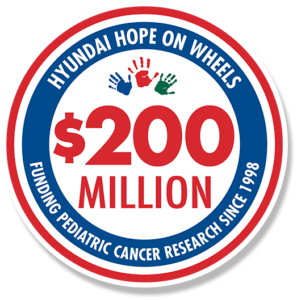 JOIN US IN THE FIGHT AGAINST PEDIATRIC CANCER
No child ever deserves to hear the words 'you have cancer.' That's why, for the last 23 years, Hyundai Hope On Wheels has been dedicated to supporting pediatric cancer research that finds innovative approaches, creates discovery, and improves care for children fight cancer.
Today, we invite you to join us in raising awareness for pediatric cancer. With your support, we can continue to work to end childhood cancer and to show the brave children battling this disease that they are not alone in this fight.
A History of Hope
In 1998, Hyundai and a group of New England-area dealers joined the fight against pediatric cancer by supporting a local initiative to support the Jimmy Fund at the Dana-Farber Cancer Institute. 23 years and over $200 million later, Hyundai Hope On Wheels has awarded over 800 grants to medical centers across the country in the fight against childhood cancer.
Take a look back at major advancements in pediatric cancer research over the past 23 years.
The Moments Make a Difference
Let your photos help tell our story. Some of the most important moments are the ones ahead of us. Help support our community by sending us your favorite moments so we can inspire future kids and help give them hope.
Hyundai Dealers Unwavering Support
Hyundai dealers are committed to serving their communities across the US and are doing so by leading the fight to end pediatric cancer. This dedication can be seen in no greater way than their commitment to research. With the sale of every new vehicle, a donation is made to Hyundai Hope On Wheels. Since 1998, over $200 million has been donated, and we're proud of our dealers unwavering commitment to this cause.

Strength From The Community