From Hope on Wheels Board Member, Dave Cantin:
To say the past few weeks, especially the month of September, were amazing moments for all of us at Hope On Wheels would be an understatement. In my 15 years as a New Jersey Hyundai dealer involved in the cause, I have never before seen such an incredible amount of support in the fight against childhood cancer. From the 2,652 folks that left beautiful messages on the "Map of Hope" during September, to the hundreds who attended any one of our grant presentations, 5K run/walks, or special events this year, you made a difference. You helped us make the voices of the children we are fighting for louder. You helped expand awareness for pediatric cancer – and for that, we cannot thank you enough.
As a father of two beautiful children and cancer survivor myself, I know first-hand the struggles we face during diagnosis and treatment can be exhausting for an adult, let alone a child. I also believe every day is special and a positive attitude is a crucial component in the fight against cancer. Being involved with the families and hospitals impacted by childhood cancer has touched me in a very personal way. It gives me great pride to know that I, along with over 820 of my fellow dealers, am able to help bring more gentle pediatric cancer treatments – and one day, a cure – through research grants.
Hope On Wheels is the best story we, as Hyundai dealers, can tell – a story of hope, courage, faith and strength. And we trust you will join us on Facebook to hear and view some of the amazing stories we have to share from friends we have met in our journey. Thank you to all of you who continue to join us in the fight against pediatric cancer.
YES, WE DID!

It is with great pride and pleasure to announce that we have surpassed our goal of $72 million in donations towards childhood cancer research and programs! Hope On Wheels originally aimed to reach this mark by year's end, but we beat that number on September 18, over three months earlier than anticipated.
We cannot stress how important you are in our mission to end childhood cancer. We thank you for believing in our work and helping support the doctors and researchers performing the work to help our children beat cancer. Every dollar is tied to a real individual who works tirelessly on a real potentially life-altering research project. And these grants are what we believe will help find cures.
THANK YOU!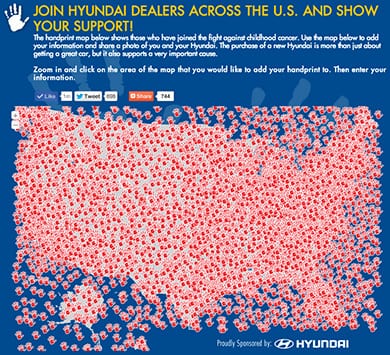 Friends and fans from all 50 states joined us on Facebook this September to add their handprint and raise awareness for pediatric cancer. We kicked off National Childhood Cancer Awareness Month with the "Every Handprint Tells a Story" Facebook app on Hyundai's page. The amount of support our loyal and new fans displayed is beyond anything we could have imagined.
You watched 30,018 minutes of inspiring videos on our YouTube channel, added 2,652 handprints and messages to the "Map of Hope," visited the Hope On Wheels site 174,946 times and continuously interacted with us on Facebook and Twitter. All this to celebrate the children who have displayed enormous amounts of hope, courage and strength in their battle against cancer. We thank you for your support and look forward to helping expand awareness for our kids even further come next September.
HOPE ON WHEELS TAKES CAPITOL HILL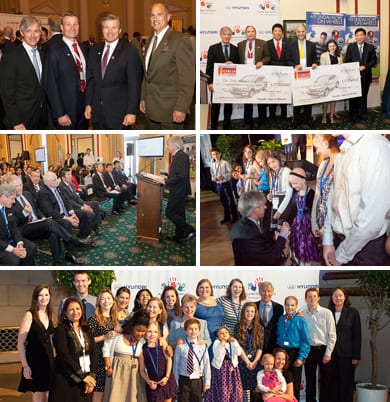 On September 18-19 we hosted our annual Pediatric Cancer Program in Washington D.C. Congressional leaders, Hyundai dealers and executives, our Medical Advisory Committee members, pediatric cancer patients, survivors and their families joined for this very special occasion.
During the Welcome Reception held at the historical Ways & Means Committee Room in the Longworth House Office Building, ten members of Congress stopped by to show their support for this important cause. Thank you to Mike Kelly, Martha Roby, Tom Marino, Donna Christensen, Cynthia Lummis, Charlie Dent, Terri Sewell, Loretta Sanchez, Bob Gibbs and Bill Cassidy for displaying their unity in the fight against pediatric cancer.
On Thursday morning, over 100 individuals gathered at the Rayburn House Office building for the annual Hope On Wheels September Pediatric Cancer Program press conference. Kaitlyn Dorman, a 12-year-old cancer survivor who was featured in our "Every Handprint Tells a Story" video series, began the press conference with a musical performance. Special guests and speakers included members of Congress, our National Youth Ambassador, CJ George, and the Honorable Ahn Ho-young, Ambassador of the Republic of Korea to the United States.
After our press conference, we joined former National Youth Ambassador, Brianna Commerford, as she delivered the opening speech at the 4th Annual Childhood Cancer Summit. It was hosted by the Congressional Childhood Cancer Caucus. Later that evening, we gathered at the beautiful Andrew W. Mellon Auditorium for our annual gala to celebrate the children that inspire us and the support of Hyundai and its dealers.
To view more photos from our time in D.C., check out our Facebook album. You can also click here to view the press conference in its entirety.
THE ELLEN DEGENERES SHOW GIVES US A SHOUT-OUT ON NATIONAL TELEVISION!

We have seen so many uplifting stories and met some inspiring individuals, including the talented Talia Joy who battled childhood cancer, thanks to "The Ellen DeGeneres Show."That's why we felt it was only right to team up with them to raise awareness during September Childhood Cancer Awareness Month and join Hyundai in giving away a brand new Sonata Hybrid.
Through October 31, 2013, visitors to Hyundai's Facebook page can enter for their chance at scoring the brand new Hyundai Sonata Hybrid. Visit Hyundai on Facebook to enter once a day and keep an eye out for another special "The Ellen DeGeneres Show" announcement in the upcoming weeks!
GRAB YOUR COPY OF "EVERY HANDPRINT TELLS A STORY"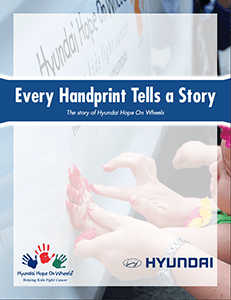 During our time in Washington D.C. we shared copies of the "Every Handprint Tells a Story" booklet which took a look at the Hope On Wheels program's 15 year legacy and the children, doctors and hospitals benefiting from our efforts. It was so well received and because of its success, we wanted to share it with you, too. We hope you enjoy it as much as those who previously viewed it. Click here to download your copy of "Every Handprint Tells a Story."
WRAPPED UP: 2013 HYUNDAI SCHOLAR & HYUNDAI HOPE GRANT CEREMONIES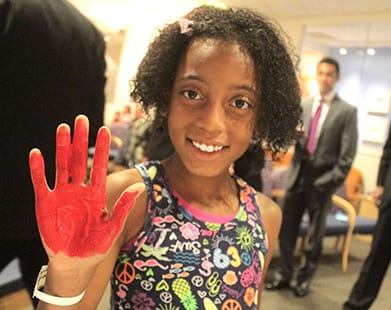 Only 4% of government research funding is allocated to childhood cancer. Private donors are necessary to help fill the enormous gap for breakthrough research and lifesaving treatments. We take that to heart. And that is why Hope On Wheels awarded $10.25 million to 41 research institutions this past September alone.
These magnificent doctors and researchers are working tirelessly to find more gentle treatments and advanced methods towards the road  for a cure. Each 2013 Hyundai Hope Grant recipient was awarded a two-year $250,000 fund for a research topic ranging across a number of childhood cancer types. To view a full list of winners and learn more about their research projects, please visit our Grants portal.  For more information on how to submit your research proposal for consideration in the 2014 Hyundai Hope and Scholar Grant programs, please follow our updates on Facebook and Twitter.
"RUN 4 HOPE" 5KS A WELCOMED ADDITION IN CITIES ACROSS THE COUNTRY
We heard you loud and clear! You wanted more 5K run/walks, and you got it. In 2013, we expanded the "Run 4 Hope" 5K Series to 11 cities in an effort to unite fans and run for great cause, childhood cancer awareness. We kicked off the Series in Maui, HI on January 4 and then visited cities such as Fountain Valley, CA, Chicago, Miami, Washington D.C., Atlanta, Montgomery and Dallas.
Proceeds from our 5K races go directly to local hospitals in each city for pediatric cancer programs. Stay tuned in the upcoming months to learn about next year's 5K Run/Walk Series and see if we'll be in your area.
DOCTOR SPOTLIGHT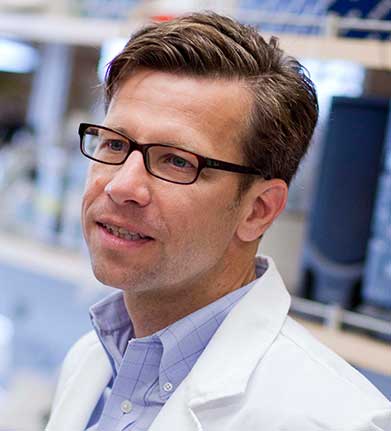 Meet Dr. Peter Kurre, an associate professor in the Division of Hematology/Oncology at the OHSU Papé Family Pediatric Research Institute. As a 2011 Hyundai Hope Grant winner, Dr. Kurre was able to use his grant funds to study plasma vesicle micro-RNA profiling for early detection of leukemia relapse.
A NOTE FROM JENNA PARKER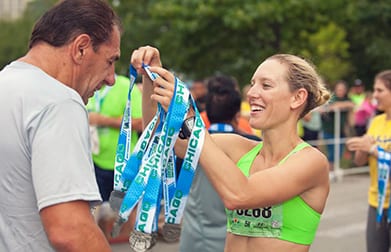 Elation. Joy. Pride. Standing at the finish line of the Hyundai Hope On Wheels 5K in Chicago, I was overwhelmed by the number of individuals who were in full celebration, and deservedly so, after finishing the 5K. Witnessing all of that emotion from such a wide variety of people – young, old, men, women, athletic, un-athletic and everything in between – I felt pride for them.