From Hope on Wheels Chairman, Mickey Pong:
Happy New Year and welcome to 2014! We hope your family enjoyed a peaceful holiday season. As we start another year in our mission against childhood cancer, we'd like to take a look at how far we have come in our journey. The past 15 years at Hope On Wheels have seen amazing growth in terms of grants funded and research progress made. Yet, there still remains much work to do, on behalf of so many brave children.
We hope the year ahead brings us closer to an even greater awareness for our cause, and maybe even cures for childhood cancers. Your support has been a significant part of the Hope On Wheels program, and for that, we cannot thank you enough. Speaking of support, please join me in congratulating Dave Zuchowski, a long-time advocate of our program, on his new position as Hyundai Motor America's President and CEO. You will see Dave at many of our events as he is also on the Board of Directors for Hope On Wheels.
Once again, thank you to all those who have donated, participated in our events, or just provided messages of encouragement. With the incredible amount of love you have shown our effort, our dedication to continuing this work has become even stronger. If you have not already, please "Like" us on Facebook to keep updated on all things Hope On Wheels related, including events, inspiring stories from children, their families and childhood cancer researchers. We are in this fight together and we will continue standing here until this disease is eradicated for good.
AN OVERVIEW OF 2013
It has been such a wonderful experience for all of us at Hope On Wheels watching the program grow in its 15 years of existence, and we are excited to see the advancements 2014 holds for the pediatric cancer community. Here's a quick look at the some of the wonderful work all of our partners including our donor partners, Hyundai dealers, and fans have helped us accomplish in 2013:
$14 million in grants awarded helped launch 83 new research projects
12 cities visited in the Hope On Wheels 5K Series with more than 4,000 runners, walkers and volunteers
4,786 handprints and "Messages of Hope" added to our Ever Handprint Tells a Story map
34,440 supporters on Facebook
CALL FOR 2014 HYUNDAI HOPE GRANTS
Attention potential Hope Grant applicants: invitation letters for the 2014 Hyundai Hope Grant have been circulated amongst Chief Pediatric Oncologists at COG institutions nationwide. If you are interested in applying for the two-year $250,000 pediatric cancer research grant, please contact your Chief Oncologist to obtain more information regarding the application process. If you have any questions, feel free to email info@hopeonwheels.org.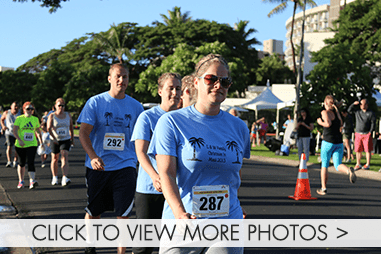 On January 4, we had the pleasure of launching the first Hope On Wheels event of 2014 on the island of Maui, HI, with Kapi'olani Medical Center for Women & Children. A spectacular group of 400+ runners and walkers participate in the first 2014 "Run 4 Hope" 5K. Click the image above to view photos from the weekend's festivities. And to learn about our upcoming races make sure you're following us on Twitter and 'like' us on Facebook.
DOCTOR SPOTLIGHT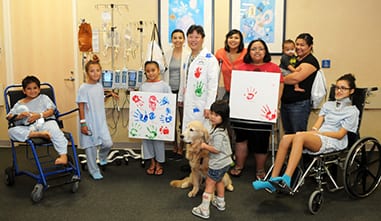 As you'll note in the above article, we have previously visited Hawaii on other occasions. Having already awarded two Scholar Grants to the Kapi'olani Medical Center for Women & Children in Oahu, we felt it would be wonderful to share some of Dr. Randal Wada's work with you. Dr. Wada has used his grant to fund research aimed at reducing the risk of chronic disease in adolescent and young adult survivors of childhood cancer. Read more on Dr. Wada's research.
THANK YOU, CJ!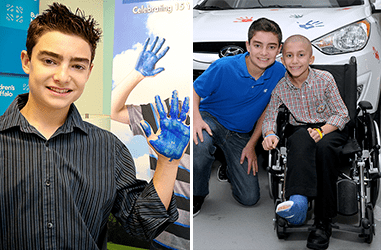 Please join us in congratulating CJ George, our 2012-2013 National Youth Ambassador, on a job well done! Over the past two years, CJ joined us for numerous events across the country to help spread a message of hope for kids fighting cancer and their families. He spoke at grant presentation ceremonies in hospitals, helped kids put their handprint on our official Hope On Wheels vehicle and shared his personal story. As a childhood cancer survivor himself, CJ knows the importance of giving back to the community and we are thankful he lent his voice to Hope On Wheels.
A NOTE FROM JENNA PARKER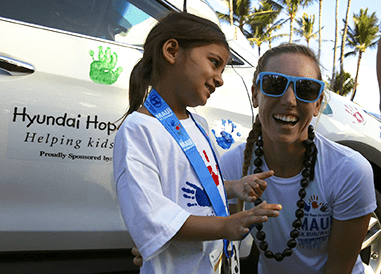 January is the month of the dreaded New Year's resolution. Every year, we are encouraged to assess our shortcomings and to commit to making a positive change. For many people, that resolution is to exercise more, watch less TV, gain more muscle, lose a bad habit or eat more vegetables. And while the effort is admirable, most resolutions are long forgotten after several weeks until the next New Year's season rolls around. So in 2014, instead of resolving to lose or to gain, why not resolve to give? Give more, not just to others, but also to yourself.
As I've learned in my career as a professional athlete, it's important to give yourself a break. Life is full of twists and turns and it's easy to beat yourself up when things don't go as you expect. We are more unforgiving of ourselves than we ever are of others, but why? Instead of dwelling on negatives, realize that the challenge simply had a different take-away message than you had originally anticipated. So allow yourself a day to cheat on your ridiculous diet. Allow yourself a day to do something fun instead of slogging through a session at the gym. Allow yourself to stay in on a Saturday night to have some well-deserved personal time, and don't feel guilty about it. Look at what you have accomplished and give a little more to yourself in 2014.
There are many ways to give; you can also give more of yourself to those you love. It's easy to become absorbed in a busy schedule and to sacrifice quality time with friends and family. I'm so inspired by the kids, families and doctors I've met through Hope On Wheels who are constantly giving their time, love, effort and patience, even when they have every reason to be busy and upset.
In 2014, I look forward to giving more of my time and energy to Hope On Wheels. Being able to be a small part of the fight against pediatric cancer over the past year gave me more than I could have ever imagined. It was a large part of the fire that drove me to train harder and to race faster. But I'm challenging myself to raise the bar. This year, I have dedicated my training and racing for each of the brave kids I've had the pleasure of meeting through Hope On Wheels, and all of those I haven't yet met, who are fighting each and every day. I want to give more of myself as an athlete, in my sport, and as a person, in my day-to-day life. I want to give when I can, not expecting anything in return, but knowing that the simple gift of giving is a reward in itself.