A Special Note From Our Chairman Dear Hope on Wheels Supporter:
As a father, I would do anything to keep my children out of harm's way. However, sometimes there are circumstances which we have no control over. One of the scariest is childhood cancer. With the right research, I believe there will be a day when no parent will have to face this fear.
I was honored to be selected as the Chairman of the Board for Hyundai Hope On Wheels. I have been privileged to serve on the Board since 2011, and I am proud to represent my fellow Hyundai dealer franchisees, in this effort, to which we are all committed.
Each time I visit a hospital or present a research grant, I am reminded that this is not just one fight against cancer. It's about a strong army of kids with cancer, their parents, siblings, extended family members, friends, doctors and thousands of supporters across the country. It has been our mission – and will continue to be such, until cures are found – to provide funding for childhood cancer.
With the sale of every new Hyundai vehicle, dollars are contributed into funds for childhood cancer research. These funds are then awarded to leading COG member institutions in the country with hopes of discovering safer, more gentle treatments for our kids – and ultimately, a cure.
While we are primarily a grant making organization and not a fund-raiser, we are so proud of the thousands of supporters who have donated and shown their support for our program. We have a goal to get 100,000 followers on Facebook, to demonstrate that together we can win this fight. As the new chairman of Hyundai Hope On Wheels, I can assure you, this is a fight we will win.
Thanks,
Mickey Pong
2013 Hope On Wheels Chairman
GM/President of North County Hyundai of Carlsbad
UPCOMING HYUNDAI SCHOLAR CEREMONIES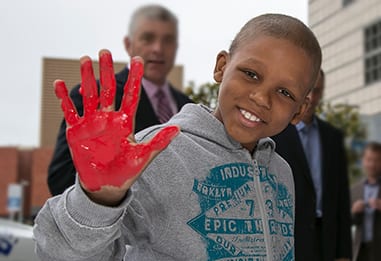 We're continuing 2013 Hyundai Scholar Grant presentations across the country and can't wait to share more photos with you. Make sure you're following us on Facebookand Twitter!
Here's a look at where we'll be in the upcoming weeks:
Ann Arbor, MI – C.S. Mott Children's Hospital (7/12)
– Fort Worth, TX – Cook Children's Medical Center (7/16)
– Pittsburgh, PA – Children's Hospital of Pittsburgh of UPMC (7/30)
– Los Angeles, LA – CHOC Children's Hospital of Orange County (7/23)
And below are some of hospitals we held handprint ceremonies at in the past few weeks. You can check out photos from the Hyundai Scholar ceremonies in our Facebook album!
The University of Arizona Medical Center
UCLA David Geffen School of Medicine
UC Davis Cancer Center
SUNY Upstate Medical University
Albany Medican Center: Children's Hospital
Connecticut Children's Medical Center
T.C. Thompson Children's Hospital
St. Joseph's Children's Hospital
DOCTOR SPOTLIGHT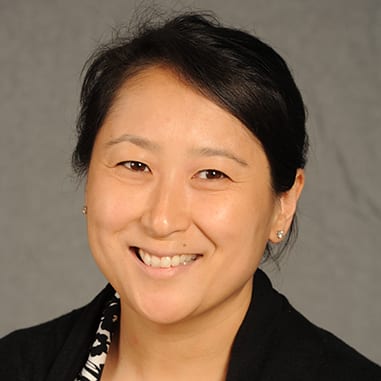 Hyundai Scholar and Hope Grant winners do an incredible job at not only researching new treatments for childhood cancer, but also by helping to develop programs to give patients better quality of life. The "Doctor Spotlight" section will help display some of the great work being performed by our grant winners.
For this month, we want to introduce you to Dr. AeRang Kim, an Oncologist at Children's National Medical Center. Dr. Kim is a 2012 Hyundai Scholar who has used her grant funding for a clinical trial of MR-HIFU in children with cancer. MR-HIFU is an innovative technique that allows for destruction of tumors by heating them to very high temperatures from within. This study hopes to destroy tumors without the use of probes, scalpels, or ionizing radiation. Learn more about Dr. Kim's research here.
FEATURED #GIVEHOPEAHAND FAN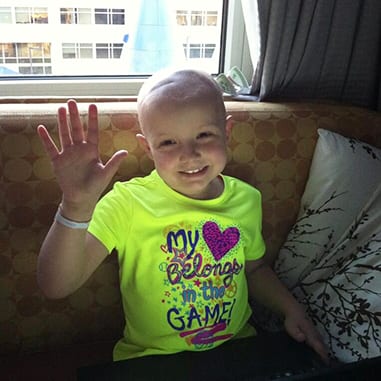 To show appreciation for those stepping up to our #GiveHopeAHand challenge, we're going to be honoring the best "Give Hope a Hand" photo each month right here! So make sure you tweet or Instagram a photo of you showing your hand in the fight against childhood cancer. You must include #GiveHopeAHand so we can find you! If you're not on Instagram or Twitter, you can post your photo on our Facebook wall.
This month's spotlight is on Jordyn Olsen and her mom Jodie (@jodiebjl). Thanks, Jodie, for posting sweet Jordyn's #GiveHopeAHand photo on Twitter. Jordyn's a 6-year-old brave girl who is also a Neuroblastoma survivor currently fighting Osteosarcoma.
A NOTE FROM JENNA PARKER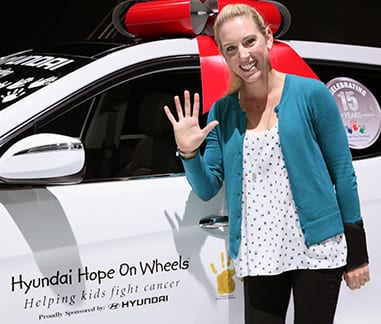 As an athlete, I utilize various types of therapy to keep my body performing at the highest level possible, such as massage and acupuncture. So, I was not surprised to learn that similar "alternative/supplemental therapies" are also offered at pediatric cancer treatment centers like Hope & Heroes Children's Cancer Fund at Columbia Presbyterian Hospital, which I had the privilege of visiting last month with Hyundai Hope On Wheels.
Alternative therapies have long been believed to help stimulate various systems in the body that promote beneficial responses. That's why athletes commonly use these treatments, alone or in conjunction with each other, to recover from hard training, to heal injuries and even as a preventative measure against injury. Athletes note that alternative therapy can benefits body, mind and soul. Understanding those positive benefits, it seems only natural to extend the reach of massage therapy.