From Hope on Wheels Board Member, Scott Fink:
I am thrilled to announce our 16th year program is in full swing! Last month, we had a number of exciting announcements to share, including the selection of our two National Youth Ambassadors, Hyundai Scholar Hope Award and Hyundai Clinical Award recipients, a partnership with Michelle Williams, Project:Every Child, and so much more!
Each day, 40 new children go to bed with pediatric cancer as their new reality. Our goal is to help make that number 0. We continue to push for research and awareness in the pediatric cancer arena, striving to one day have a cancer-free world for all children. Currently, we are in the process of scheduling grant ceremonies for the 50 recipients of this year's Hyundai Scholar Hope Awards and Hyundai Clinical Awards.
All of us at Hope On Wheels and the Hyundai dealers are looking forward to another year of traveling across America with Ashley and Kenny. They will help us spread the message of hope to brave kids fighting cancer that we meet at our check presentation and handprint ceremonies.
As always, we will be sharing photos and updates on our social media channels during the course of the year as our so please make sure you have liked us on Facebook and are following us on Twitter.
NEW YORK CITY LAUNCH WRAP UP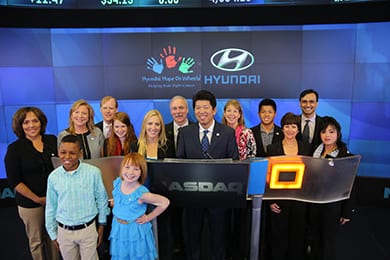 It is always an exciting experience visiting New York City – tons of activities going on all around with so much to do and see. That also seems to sum up our week in New York well. To start off, we visited The Today Show Plaza in Rockefeller Center with Ashley and Kenny where you may have seen us on television. Then we stopped by BET and Fox to share Ashley and Kenny's stories. In addition, we rang the NASDAQ opening bell with Hope On Wheels Chairman, Mickey Pong, the National Youth Ambassadors and some special guests.
With our crew in town, we later made our way to the West Side of the city to the Jacob Javits Center for the Hope On Wheels 16th year program announcement. There we were joined by over two hundred friends – hope heroes and their families, Hyundai executives, local dealers, grant recipients and Hope On Wheels Board Members. Our special celebrity guest, Michelle Williams, sang to the children and commended the brave children battling pediatric cancer.
There are more photos from our New York launch activities in our Facebook album.
GET TO KNOW ASHLEY & KENNY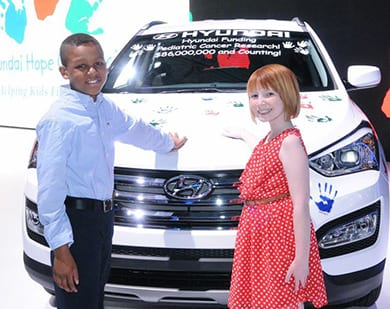 In April, you met Ashley and Kenny, the 2014-2015 Hope On Wheels National Youth Ambassadors. And now it's time to get to know them a little better. Did you know Ashley is a great hula hooper? Or that Kenny used music to cope with his long stays at the hospital and find comfort?
Ashley was diagnosed with Stage IV Neuroblastoma and later developed evidence of Non-Hodgkin's Lymphoma. While Ashley's battle was long and difficult with 7 week-long rounds of chemotherapy, 4 surgeries, a stem cell transplant and more than 150 days in the hospital, she never gave up hope. After her treatments, Ashley took every opportunity she had to raise awareness for childhood cancer at local events and fundraisers.
Kenny was diagnosed with Non-Hodgkin's Lymphoma at age eight. To battle his cancer, Kenny had to miss the entire third grade and go through numerous rounds of treatment. In December 2012, Kenny was declared to be in remission and slowly started to return to the life and hobbies he knew before childhood cancer. To sum childhood cancer, Kenny says, "It takes courage, and I know every kid has this courage in their soul."
You can learn more about Ashley's and Kenny's stories here.
2014 GRANT WINNERS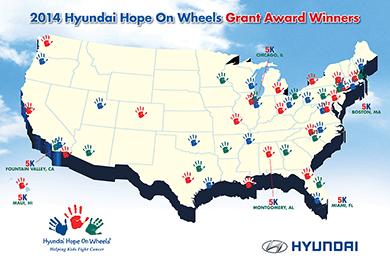 This year, we are proud to present 50 Hyundai Scholar Hope Awards and Hyundai Clinical Awards. We will be visiting the winning doctors, their hospitals and patients in the upcoming weeks to present their checks and hold handprint ceremonies. You can learn about the grant winners here.
DOCTOR SPOTLIGHT
Dr. Shukla and his team seek to identify and develop novel agents for the treatment of Rhabdomyosarcoma, an aggressive childhood cancer with their 2014 Hyundai Scholar Hope Grant. Rhabdomyosarcoma (RMS) is an aggressive childhood malignancy with dismal outcomes for patients with metastatic and recurrent disease. Successful treatment for these patients remains problematic, due to the limited number of active agents available to clinicians. There is a critical need for novel drug development for patients with RMS.