Dear Hope on Wheels Supporter: May
The outpouring of support for our Hope Heroes has been incredible in the past few months. From all those who have come out to a Hope On Wheels 5K, to those on social media helping spread our message, we owe you a tremendous "thank you!"
At Hope On Wheels, we understand there's a long way to go in the journey toward a childhood cancer-free world. But we will not stop until this dream becomes a reality.
We wish you a fun-filled summer and if your travels happen to take you to New York City, make sure you check out the Hyundai billboard! It's right above the "Red Steps" in Times Square with a special Hope On Wheels message.
P.S. – Keep an eye out for the Hope On Wheels September campaign for Childhood Cancer Awareness Month! And make sure to check out what Hyundai CEO & President, John Krafcik, has to say about Hyundai's commitment to the fight against childhood cancer.
UPCOMING HYUNDAI SCHOLAR CEREMONIES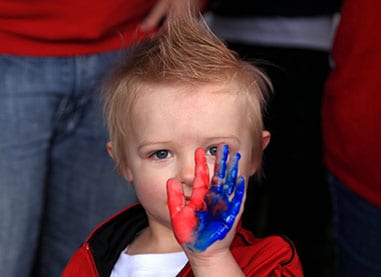 Hope On Wheels is excited to be hitting the road, awarding the 2013 Hyundai Scholar Grant recipients childhood cancer research funds. As we visit each hospital, we will be sharing photos from our handprint ceremonies on Facebook and Twitter- so make sure you're following us!
Here's a look at where we'll be in the upcoming weeks:
Tucson, AZ – The University of Arizona Medical Center (6/6)
Los Angeles, CA – UCLA David Geffen School of Medicine (6/7)
Syracuse, NY – SUNY Upstate Medical University (6/12)
Albany, NY – Albany Medical Center: Children's Hospital (6/13)
Hartford, CT – Connecticut Children's Medical Center (6/19)
Chattanooga, TN – T.C. Thompson Children's Hospital (6/20)
HOPE & HEROES WALK IN NYC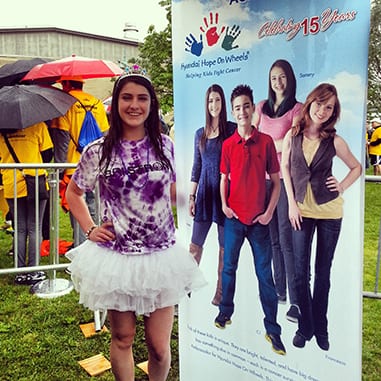 Despite a rainy Sunday morning, walkers of all ages joined to raise childhood cancer awareness and funds for the Hope & Heroes Children's Cancer Fund Walk in New York City. Hyundai Hope On Wheels was a sponsor for the May 19th walk which took place along the Hudson River.
Brianna Commerford, the 2011-2012 Hope On Wheels National Youth Ambassador, led the "Bri Strong & Hyundai Hope On Wheels" fundraising efforts with a total of $3,625. Hope & Heroes holds a special place in Bri's heart as she was treated at Columbia University Medical Center. Hope & Heroes benefits the Herbert Irving Child & Adolescence Oncology
Center at the hospital.
Hope On Wheels is proud to be a supporter of Hope & Heroes' great efforts in the fight against childhood cancer. Can't wait until next year's walk!
You can view more photos from Hope & Heroes 2013 Walk here.
RECAP: FREDERICKSBURG SEMPER FRED 5K PRESENTED BY HYUNDAI HOPE ON WHEELS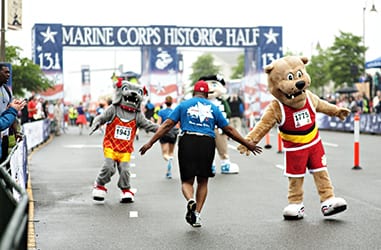 For the first time ever, Hyundai Hope On Wheels sponsored this year's Semper Fred 5K at the Marine Corps Historic Half Marathon. The race was a part of our 5K Run/Walk Series – an effort to bring childhood cancer awareness to more individuals across the country.
A total of 686 individuals participated in the 5K with Christopher White of Sneads Ferry, NC, coming out at the top of the leader board. You can view photos
from May 19th's Semper Fred 5K here.
We would also like to extend a special shout out to our friends and families of the Marine Corps for partnering with us this year. Your support for this cause and the work you do every day, is greatly
FEATURED #GIVEHOPEAHAND FAN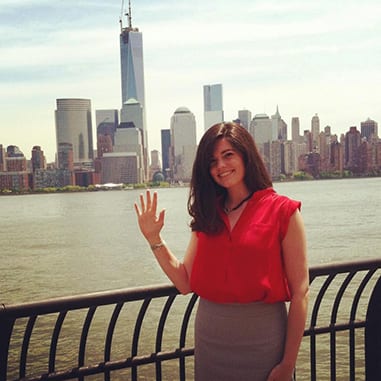 To show appreciation for those stepping up to our #GiveHopeAHand challenge, we're going to be honoring the best "Give Hope a Hand" photo each month right here! So make sure you tweet or Instagram a photo of you showing your hand in the fight against childhood cancer. You must include #GiveHopeAHand so we can find you! If you're not on Instagram or Twitter, you can post your photo on our Facebook wall.
This month's spotlight is on Angela Smith (@AllYouKnead11). Thanks, Angela, for the beautiful photo and for joining us to raise childhood cancer awareness.
#GIVEHOPEAHAND GIVEAWAY TIME!
We are giving some lucky #GiveHopeAHand supporters an opportunity to snag a limited edition Hope On Wheels t-shirt! Be one of the first 100 to post a photo showing your hand with #GiveHopeAHand on Facebook, Instagram or Twitter, then take a screenshot or send a link of your post to info@hopeonwheels.com. Make sure you include your full name, mailing address and telephone number in the email. This offer starts on June 1, 2013
A NOTE FROM JENNA PARKER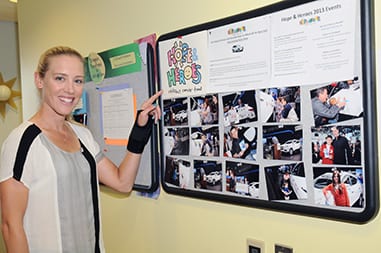 I had the privilege of visiting Hope & Heroes Children's Cancer Fund to spend time with patients from the Herbert Irving Child & Adolescent Oncology Center in New York City a few weeks ago as part of Hyundai Hope On Wheels' 2013 program launch. One of the things that struck me about my time at the hospital was the incredible sense of family. As I toured the hospital, I immediately felt welcome. I was met at every corner by smiling faces of nurses, doctors, volunteers and even patients. I couldn't help but feel like I had immediately become a part of an extremely powerful team.
Brianna Commerford, the inspiring former Hope On Wheels National Youth Ambassador, shared her story with me as we walked through the center. Brianna received her cancer treatment at the hospital and told me of how she became close with the other children there while undergoing treatment. They formed a bond that helped all of them fight harder. I was inspired by her gratitude as she spoke of her doctors and discussed the sacrifices that her mother made to be with her during treatment every day. One of her teachers from New Jersey even traveled into the city to help her keep up with her school assignments while at the hospital. Brianna had an amazing team around her, and as she introduced me to many of them, it was evident that she had touched each of their lives as much as they had touched hers. All of those people were her team and with her courage and their support, she won her battle with pediatric cancer.
In reflection on my career as an athlete, I've come to realize that it is only with the help and support of my team that I have been able to reach so many milestones over the years. It has not always been easy and I've faced my fair share of setbacks, but the people around me have always found a way to keep me going. Allowing myself to accept the help was not the easiest thing to do. After all, it's normal to want to do things on your own, to want to set goals and accomplish them without the help of other people, but the reality is that we can do so much more when we don't go on the journey alone. We are so much stronger in numbers.
For me, my team is an array of people. I'm supported by my coach, my family, friends, sponsors and fans I've met along the way. When I'm having a bad day, they are there to pick me up and to help me find the strength to continue fighting. On the good days they are there to celebrate my successes with me.
Behind each one of the amazing children that I met at Hope & Heroes, there is an incredible team. These doctors, nurses, parents, siblings, friends, and even companies like Hyundai Hope On Wheels, are there to lift them up, to hold their hands, and to make each day a little bit easier.
Each smiling face inspired me during my visit. These incredible children and the people who support their fight are a reminder that no matter what you are dealing with, relying on your "team" is not a sign of weakness, but rather a sign of strength. In doing so, you are not only making yourself stronger, but you are also strengthening all of the people around you.
HOPE ON WHEELS IN THE NEWS
Prudential Spirit of Community Awards – Congrats to our very own National Youth Ambassador, CJ George, for being named a Distinguished Finalist of the 2013 Prudential Spirit of Community Awards