Dear Hope on Wheels Supporter: April
We are excited to be starting the 15th year of the Hope On Wheels program – a program that would not be here without you. We truly owe it to our fans, followers, Hyundai dealers across the nation and Hyundai for the success of our efforts. Raising awareness for a cause so near and dear to our hearts seems only natural. We hope you will join us in commemorating the $72 million mark in total donations by the end of this year.
The Hyundai Scholar Grant program has officially kicked off with the presentation of our first grant to Columbia University Medical Center at the New York International Auto Show on March 28, 2013. In the upcoming weeks and months, we will visit 39 additional hospitals and institutions with the $75,000 Scholar Grant giant checks and handprint ceremonies. Check out the rest of this newsletter to learn more about the 2013 program launch and activities for the rest of the year!
Your support is greatly appreciated and we hope you will keep up with us by visiting our newly redesigned website and join us on our social media channels (Facebook, Instagram and Twitter)!
NEW YORK CITY LAUNCH ACTIVITIES

What better way to launch the 15th year of our program than in wonderful New York City? We set out to NYC during the last week of March with a lengthy "to do" list, at the top of which in bold letters was "RAISE AWARENESS FOR OUR HOPE HEROES".
Taking to numerous platforms and TV shows with our celebrity guest, "Modern Family" star Nolan Gould, we achieved greater awareness for the greater cause.
We took over the Hyundai billboard in Times Square and put our message in front of millions of people daily. Nolan and CJ visited Morgan Stanley Children's Hospital to bring some smiles to the faces of children battling cancer. Nolan and CJ George, Hope On Wheels' National Youth Ambassador, also joined Hyundai's CEO and President, John Krafcik, at the NASDAQ closing bell to mark Hope On Wheels' 15 year commitment to the fight against childhood cancer.
Lastly, more than 250 child patients, families, Hyundai dealers, supporters and onlookers joined us at the New York International Auto Show to mark the official launch of Hope On Wheels 2013. We had the honor of having March 28, 2013 proclaimed as "Hyundai Hope On Wheels Day" by NYC Mayor Michael Bloomberg and the Borough of Manhattan's President Office.
You can view more photos from NYC here.
"MODERN FAMILY" STAR NOLAN GOULD HELPS LAUNCH 2013 HOPE ON WHEELS PROGRAM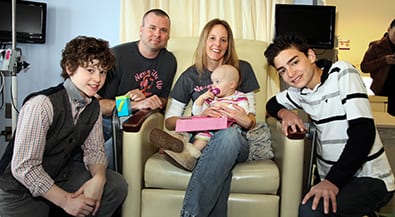 Sometimes it's easier for kids to relate to someone their own age. Nolan Gould understands this and that's why he wanted to lend his hand in the fight against childhood cancer through Hope On Wheels. He joined us in New York for the 2013 Hope On Wheels launch to help shine a light on childhood cancer.
Nolan traveled to a handful of television stations and gave many interviews about his involvement with Hope On Wheels. To show our appreciation for lending his hand against pediatric cancer, we presented Nolan with an "Ambassador of Hope" award at the New York International Auto Show.
We want to thank Nolan for his support and taking the time out of his full schedule to spend some time with us and learn about our work.
CHECK OUT THE NEW HOPE ON WHEELS SITE!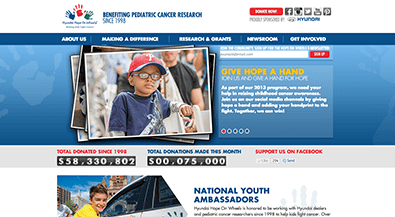 If you have visited HyundaiHopeOnWheels.org in the past month, you'll notice our fresh, new website! The updated website offers new content and information about our program and we will continue to keep you updated on the progress of our Hope and Scholar recipients through our Doctor Spotlights feature. Let us know what you think of the new look!
5K RUN/WALK SERIES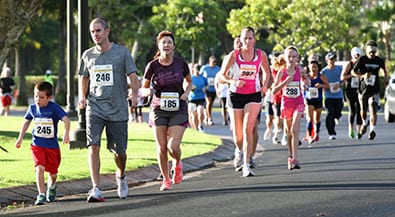 Now that the 2013 program has officially kicked off, we're ready to hit the ground running (literally!) with the continuation of our 5K Run/Walk Series. We are excited to bring the message of hope and triumph to 10 cities this year. Among the cities for 2013 are Dallas, Atlanta, Miami and Chicago.
Fredericksburg, VA, will be up next, so make sure you sign up and start your training! We are sponsoring the Semprer Fred 5K at the Marine Corps Marathon on May 19 – learn more!
For a complete list of dates and to register, please visit hyundairun4hope.org.
GIVE HOPE A HAND

There needs to be greater awareness for childhood cancer. And that is why we have created the "Give Hope A Hand" campaign – an effort to increase awareness of the disease for our hope heroes. We have asked the public to give their "hand" by taking a photo of their hand and posting it on their social media channel with #GiveHopeAHand.
Throughout the year, you will see us using "Give Hope A Hand" to get as many people as possible to show us their hands. In doing so, you are doing your part by showing support for the cause – all it takes is 5 seconds! To learn more about "Give Hope A Hand," please click here.
A NOTE FROM JENNA PARKER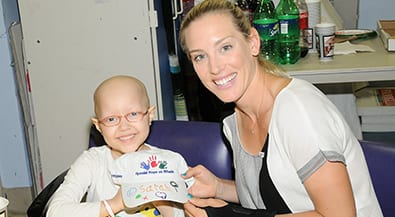 My name is Jenna Parker. I am a professional triathlete and ambassador for Hyundai. I grew up outside of Boston, Massachusetts, graduated from Harvard in 2006 and have been racing professionally, representing the USA in the sport of triathlon, for the last ten years. I am excited to support Hyundai Hope On Wheels as they celebrate 15 years of making a difference in the lives of so many incredible children and families affected by pediatric cancer.
The commitment to fight this difficult battle for more than 15 years is a testament to the amazing determination of Hope On Wheels and the doctors and hospitals it supports across the U.S. As a professional athlete, I'm honored to share my personal stories of dedication and determination with the Hope On Wheels community in support of their mission to continue the fight for a cure.
When it comes to determination, I learned how important it is to keep fighting from a young age. My first swim coach taught me to eliminate the word "can't" from my vocabulary and to replace it with "I'll try." Since then, I've set my goals, and set them high. When presented with a challenge, my response is now, "I can do it. Just watch me." Whether it was learning a new swim stroke, riding a two wheel bicycle, earning acceptance into Harvard University, or achieving a top 20 world and #1 U.S. triathlon ranking, accomplishing each feat required dedication, determination and a positive attitude.
That's not to say that it has always come easy. With every success, there have been plenty of setbacks and struggles – times when we want to give up. In high school, I made a reckless mistake in a race and broke my elbow six weeks before the State Championship swimming meet. I was devastated. But instead of letting the injury end my season, I made a plan to do all the training possible to prepare myself for the meet, aside from actually swimming. When the State meet rolled around, I had only been back in the pool for about two weeks, but knew I was ready to try my hardest to achieve the goals I had been working toward for so long. This wild hope and determination paid off when I surprised everyone, including myself, by winning not just one but four State titles. I learned a valuable lesson to never stop believing and fighting in the face of adversity. This is the lesson embodied by Hyundai's more than 15-year commitment to finding a cure.
As children and families affected by cancer know all too well, not every challenge in life is something we can control. Those are the times when we have to reach deeper to keep fighting. In 2006, I received the largest shock of my life when my mother, an incredibly healthy and active woman, was diagnosed with breast cancer. Up until that point, cancer was just this word, this disease that happened to other people, but in the blink of an eye, cancer was now a part of my life. We were lucky that it was diagnosed early, and my mother was able to win her fight. Since then, she has been cancer-free, but sadly cancer returned to affect my aunt and my best friend's mother. It was incredibly hard to accept that I couldn't be the one fighting their battles, but I could stand with them. Armed with my experience and knowledge of my mother's battle, I stood alongside family and friends to support and inspire these incredible women as they fought for their lives. We built a "butterfly box" with hundreds of notes of hope, to help keep up positivity and motivation. These women won their battles with cancer, but not everyone is so lucky.
In 2009, cancer invaded the life of a 32-year-old fit and active woman, who had only just found out she was pregnant weeks before. This time, it was stage four colon cancer, diagnosed only because of a sharp, unexplained pain in her shoulder. A motivator and shining light in everyone's life, Lauren was a true example of hope and determination, and she fought fearlessly for two and a half years before finally losing her battle.
Since Lauren's passing, I have raced with the date of her passing and cancer ribbons on the back of my suit, as a reminder to keep fighting when things get tough. Although she is no longer here with me, she is the wind at my back when racing hurts the most. I am reminded every day of how lucky I am to be able to continue pursuing my dreams; no one deserves to have that taken away from them, especially children.
Partnering with Hyundai Hope On Wheels is a true honor and blessing. I am humbled and inspired by the courage and determination of every child and family who face cancer head on and refuse to stop fighting – because they have no other choice. For the rest of us, we do have a choice, and that is why it is so essential to have the support of research doctors and non-profit organizations like Hope On Wheels, to advocate for a cure while those without a voice fight for their lives. No matter the challenges we face, we have to face them head on with determination, dedication and a positive attitude. I look forward to lending a hand to Hope On Wheels in the battle against cancer by working together, generating awareness, and never giving up the fight.