From Hope on Wheels Chairman, Mickey Pong:
Each April, we look forward to the beginning of spring, signifying warmer weather and a little extra time to spend with our loved ones. For everyone at Hope On Wheels, it also means the launch of our annual kickoff at the New York International Auto Show. With all the amazing things we are going to announce in New York, you can't blame us for a little excitement!
Thus far, this year has been wonderful for our organization. In the first quarter of 2014 alone, we completed a number of major activities in support of pediatric cancer. First, we kicked off our 5K race series in Maui, HI. The Hope on Wheel Maui 5K has quickly become the second largest 5K on the island. Next, we conducted the annual research grant review process. This year's grant applicants presented some amazing projects for consideration. With a difficult task, our Medical Advisory Committee has completed the review process, and we will announce this year's grant winners in a few short days. Finally, we announced the latest significant research grant award funded in our history. The grant was awarded to the Children's Oncology Group (COG), which has initiated a major study to advance the science in the field of pediatric oncology. You can read more about in the section below.
Last, and not least, one other really exciting piece of the year so far (and my personal favorite!) has been the process of selecting our new National Youth Ambassador. Many of you know that C. J. George served as the National Youth Ambassador for Hope On Wheels during the last two years. His term was completed, and he did an awesome job! Thank you C. J. from all of us. We just completed a national search for a kid to become the next National Youth Ambassador for Hyundai Hope On Wheels. From the applications, we met some outstanding young people, whose stories of courage and hope are wonderful. We will be profiling each of these kids over future newsletters. On Thursday, April 17th, we look forward to introducing with everyone the next National Youth Ambassador.
Until then, I want to thank all of our readers and social media followers in our continuing efforts in the fight against pediatric cancer. We issue a special edition newsletter on April 17th to announce more about our 2014 launch activities. Please continue to follow us and share with your friends join us across our social media channels this year to learn more about the children and doctors who inspire our work each and every day
READY FOR THE 2014-2015 NATIONAL YOUTH AMBASSADOR ANNOUNCEMENT?
We'll be announcing the Hyundai Hope On Wheels National Youth Ambassador during our New York Auto Show launch activities next week. Until then, we'd love to introduce you to some of the wonderful young ladies and gentlemen inducted into our "Hero 4 Hope" wall on our website:
Clayton B., 13 – Boise, ID
Grace C., 10 – Sunnyvale, CA
Luciano Q., 11 – Hartford, CT
Margaret S., 10 – Amherst, NY
Noah G., 14 – Frederick, MD
To view their stories and more information on other brave kids, visit our website.
PROJECT:EVERYCHILD
The Children's Oncology Group (COG) is the world's largest organization devoted exclusively to childhood and adolescent cancer research. The COG unites more than 8,000 experts in childhood cancer at more than 200 leading children's hospitals, universities, and cancer centers across North America, Australia, New Zealand, and Europe in the fight against childhood cancer. Today, more than 90% of 14,000 children and adolescents diagnosed with cancer each year in the U.S. are cared for at COG member institutions.  The COG's research has turned children's cancer from a virtually incurable disease 50 years ago to one with a combined 5-year survival rate of 80% today.  The goal is to cure all children and adolescents with cancer, reduce the short and long-term complications of cancer treatments, and determine the causes to find ways to prevent childhood cancer.
The COG, a long-time Hope On Wheels partner, has launched the largest, most extensive initiative of its kind – Project:EveryChild.
We are proud to announce a Hyundai Hope On Wheels 2014 research grant for $2 million to the COG, for this transformational project in pediatric cancer. Click here to read more about Project:EveryChild.
DOCTOR SPOTLIGHT
The men and women who do life-saving research and provide care for pediatric cancer patients across the nation are true heroes. We are proud to have been part of the amazing work of so many of these scientists. This month we profile, Dr. Leonard Sender, Medical Director of Hyundai Cancer Institute at CHOC Children's Hospital. Please watch this special message from Dr. Sender and his incredible passion. As Dr. Sender says, "Society never found a name in any language, in any culture, for a parent to lose a child. It is unnatural, it is wrong, and in a society as sophisticated as we are, it is unacceptable." We need cures and we are working hard to find them – today and every day, until our one wish to end childhood cancer is reality.
READY FOR THE 2014-2015 NATIONAL YOUTH AMBASSADOR?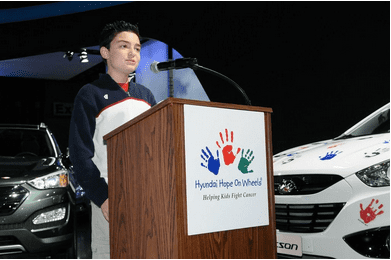 Our National Youth Ambassadors have a very important job during their 2-year role. They share their stories of courage, raise awareness for pediatric cancer, and represent the importance of support for funding research. CJ George, our last NYA did a spectacular job traveling around the country with Hope On Wheels. He inspired kids to never give up hope. Thank you, CJ, for all your wonderful work. We love watching as you continue to grow into a wonderful young man.
We will be announcing the 2014-2015 National Youth Ambassador on Thursday, April 17th. Until then, we want to introduce you to some of the wonderful young girls and boy, who are inducted into our "Heroes 4 Hope" program.
Clayton B., 13 – Boise, ID
Grace C., 10 – Sunnyvale, CA
Luciano Q., 11 – Hartford, CT
Margaret S., 10 – Amherst, NY
Noah G., 14 – Frederick, MD
To view their stories and more information on other brave kids, visit our website.
FROM THE HOPE ON WHEELS 5K RUN TEAM
featuring professional triathlete Jenna Parker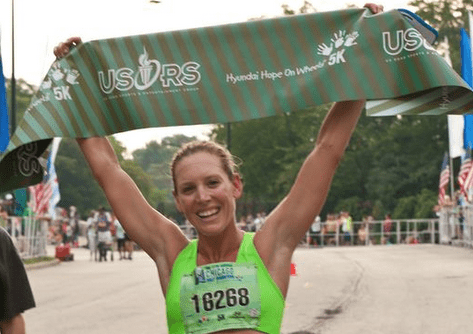 Spring is here! As the snow melts and the flowers start to bloom, it's the perfect time to get outdoors and start training for the upcoming Hope On Wheels Run for Hope 5K race series. The series is going to be both fun and inspirational as we visit cities across the country, spreading awareness, and raising funds for pediatric cancer research. Stay tuned for our Hope On Wheels 5K race website to learn about the amazing locations and how you can join the fight.  You can run, walk or just donate to show your support for the cause. I look forward to seeing all of you, sneakers laced up, and running to help us end childhood cancer!
Training for a 5K isn't as scary as it seems – I promise! If you start early and build up slowly, you'll be flying across the pavement come September. Stay tuned for some training tips and videos from me coming to the Hope On Wheels website in the next few months. In the meantime, I've included some tips below to start you off.
First off, I know that not everyone loves to run. In my opinion, individuals are often discouraged because they try to do too much, too soon. One of the best ways to start running is to walk. As a matter of fact, people who "run-walk" during a marathon instead of trying to run the entire race in one go, tend to improve their finishing times. So, as you're getting used to exercising on a regular basis and building up your endurance, the run-walk tactic is a great way to make it more manageable.
Additionally, the further out from the date of the 5k that you begin training, the easier the race will be for you. I suggest taking a look at a 6-week novice-training schedule online to get an idea of how easy it can be. As you start to train, I recommend trying to run four to five days per week, if possible.
Happy training, everyone, and good luck with your 5K goals!