From Hope on Wheels Board Member, Scott Stark:
Our activities are kicking into high gear and we are excited to meet the amazing children at our grant winning hospitals. As you already know, we are just weeks away from September, which is National Childhood Cancer Awareness Month. We're preparing for a special weeklong set of activities in Washington D.C. to raise awareness and honor children battling cancer across the U.S. More details about our September efforts will be announced soon and we cannot wait to share them with you.
Until then, we are traveling the country presenting the 2014 Hyundai Young Investigators Clinical Awards. We're committed to funding Young Investigators as they work to advance some of the most innovative research in the childhood cancer community. Previous Hope On Wheels grants within this category have helped children across the country.
In addition to our award ceremonies and planning our September campaign, we are also working on our annual Hope On Wheels 5K Series, which you can read more about below. We look forward to meeting new friends, visiting older ones and helping make a difference in the lives of children across the country. Please join our journey on Facebook and Twitter.
HYUNDAI DEALER MEETING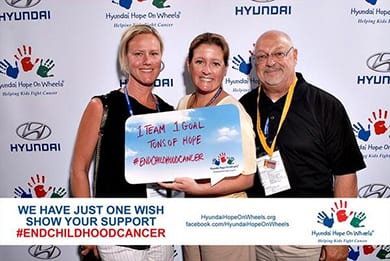 Last month, Hyundai dealers from all across the country attended the National Hyundai Dealer Meeting in Anaheim, CA. Hyundai Hope On Wheels was given an opportunity to provide highlights about the program and the progress that's been made over the last 16 years. Hyundai dealers are an integral part of the Hope On Wheels program. Without the support of the dedicated Hyundai dealers, the Hope On Wheels program wouldn't be able to move forward. We also honored the excellent work being performed in pediatric cancer research at the Children's Hospital of Orange County.
HOPE ON WHEELS 5K NEWS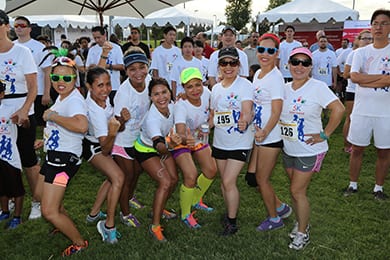 Start doing your stretches and get into training mode because the Hope On Wheels 5K Run/Walk Series is coming back! On the heels of another wonderful 5K year, we will be visiting three cities this fall to help paint the town gold for childhood cancer awareness.  We'll start off in Chicago at the Chicago Half Marathon & Hyundai Hope On Wheels 5K on Sunday, September 7. If you're interested in attending, make sure you secure your spot by signing up here.
The next 5K run/walk will be on Saturday, September 20 in Miami, FL. This will be the 4th Annual Hyundai Hope On Wheels Miami Children's Hospital 5K, taking place right by Coral Gables City Hall. To learn more or to register for this race, click here. The following day, Sunday, September 21, we will be at the 2014 Boston Marathon Jimmy Fund Walk to support the Dana Farber Cancer Institute. You can join us by registering here.
Last but not least, on Sunday, September 28, the 4th Annual Hope On Wheels 5K Run/Walk will take place in beautiful Fountain Valley, CA. While we finalize plans and exact schedule details we invite you to register for the race here.
HYUNDAI YOUNG INVESTIGATORS CLINICAL AWARD WINNERS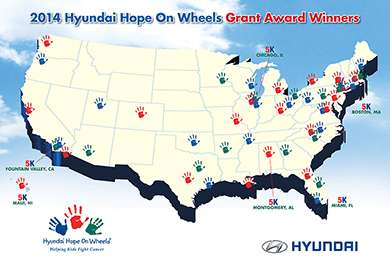 We are very excited to be hitting the road this month to present the Hyundai Young Investigators Clinical Awards. July kicked off with four Clinical Award presentations: Phoenix Children's Hospital in Phoenix, AZ, Levine Children's Hospital in Charlotte, NC, Rady Children's Hospital in San Diego, CA, and Children's Hospital of New Orleans in Louisiana. One of our National Youth Ambassadors, Ashley Burnette, joined us in North Carolina to present Dr. Javier Oesterheld with a $75,000 check. Kenny Thomas, our second National Youth Ambassador spoke about his journey with pediatric cancer and the importance of having hope at our ceremony in New Orleans.
Later this month we will be visiting the University of Arkansas for Medical Sciences. In August, another seven Young Investigators will receive their Clinical Awards. Stay tuned for August dates and follow us on Facebook and Twitter to see photos from ceremonies as they happen.
FROM THE HOPE ON WHEELS 5K RUN TEAM
featuring professional triathlete Jenna Parker
Summer is my favorite time of year. The days are long, the sun is shining and the air is warm. That means that it is both the best, and the easiest, time to get outside and be active! Being active is even more fun when you have a goal to work towards.
I have my eyes on the Hyundai Hope On Wheels 5K series this September and October. Alongside Hyundai, I am so excited to visit some wonderful cities this fall, raise money and awareness for pediatric cancer and have a great time along the way! I'm hoping that I will see many of you there. If you haven't signed up yet, go do it! Make it your goal to!
I know the idea of tackling a 5K can be a little intimidating, but it doesn't have to be. Set small goals, on your way to the big one, and focus on meeting them one at a time. Start first by simply committing to get outside for a run, walk or a little of both, at least 3 times during the week. Once you accomplish that – which is way easier than it sounds – set your goals higher! Get a friend, or a few, to sign up too; use each other as motivation. You'll be amazed at how setting small goals can make a huge difference!
Keep an eye on the Hope On Wheels website for more of my tips and tricks to help get you on your way to the start line of one of our events this fall! Reach out to me on social media and let me know how your training is going! Together we can make 2014 the best Hope On Wheels 5K series yet!
DOCTOR SPOTLIGHT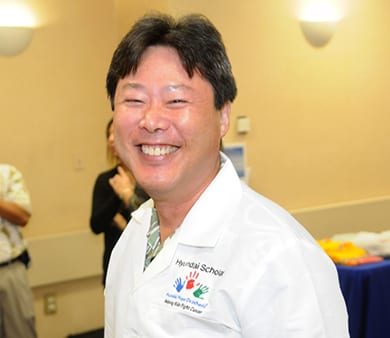 Dr. Randal Wada's 2012 Hope On Wheels Grant was aimed at reducing the risk of chronic disease in adolescent and young adults survivors of childhood cancer. His project was designed to test the feasibility of deploying an electronic medical record-facilitated intervention in physical ability and nutrition, where healthcare team counseling was based on the patient's motivation and readiness to change unhealthy lifestyle behaviors. Read more on Dr. Wada's efforts in childhood cancer.