From Hope on Wheels Program Executive Director, Zafar Brooks:
September is National Childhood Cancer Awareness Month.  This is a time when our nation pauses to recognize the brave children who have fought and won their battles with pediatric cancer – and, sadly, some who have lost.  We are inspired by their courage, their memories, and their hopes.  And we want these kids and their families to know that they are not alone.
That's why in 1998 Hyundai Hope On Wheels (HHOW) joined the fight against the disease. With over $87 million awarded to pediatric cancer research since inception, our goal is clear: to end childhood cancer.
This year marks our 16th year in the fight.  It is incredible to see the level of support we have received for HHOW.  We send warmest thanks to our loyal supporters, donors, online followers, event participants, and the families who have shared our story.  We also thank the Hyundai dealers in the U.S., who support the program.
The support for the Gold Ribbon, the symbol of childhood cancer, continues to grow across the nation.  In fact, during this month of September, such notables as the White House, the Times Square Alliance, One World Trade Center, the Chicago Half Marathon, and a number of other childhood cancer organizations are showing big support for the Gold Ribbon.
During September, HHOW is presenting a number of events to support the cause.  In this newsletter you will learn more about our plans, which include: a unique web experience, 36 handprint ceremonies at grant-winning children's hospitals, a four-city 5K race series, a digital advertising campaign, a Times Square Go Gold event, our annual September DC Days activities, a series of web videos about child cancer survivors, and videos of doctor grant winners.  We will also award 36 Hyundai Research Scholars a combined $9 million in grants throughout the month.
We invite each of our followers to join us this month in a challenge.  Our goal is to get 100,000 handprints on our virtual Wall of Hope.  Your participation is as easy as one, two, three:
1. Visit our website,http://www.HyundaiHopeOnWheels.org/September
2. Add your virtual handprint to our online Wall of Hope
3. Share your digital handprint on Facebook with your friends and challenge them to show their support for pediatric cancer.  Every 36 minutes a child is diagnosed with cancer.  Can you get 36 friends to take our challenge?
Achieving our goal of 100,000 handprints will let these kids and their families know that they are not alone. This is a fight we will win!
Please follow us on our website, and on Facebook andTwitter, to learn more about our progress during the month.
EVERY HANDPRINT TELLS A STORY, VERSION 2.0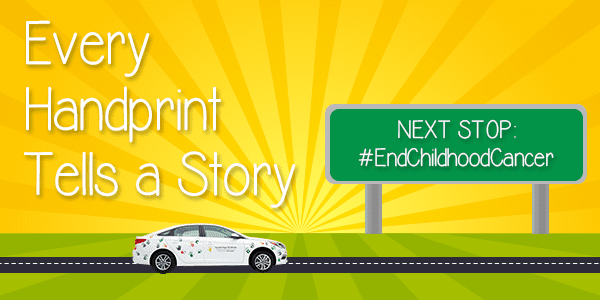 Last September, we took to social media to share stories of hope from child cancer survivors, with a goal to spread awareness.  We were incredibly moved by the outpouring of support all across the country.  Thousands of people watched the children's video stories, and even more posted Messages of Hope on our social media pages.  On behalf of the kids, thank you!
This year, we knew we had to give more kids an opportunity to share their voices.  For September, we have captured the video stories of children from across the country, each of whom has a powerful message to tell.  If you currently follow our Facebook page, you may have seen some of the new videos, such as those with Rylie and Ian.  They are two of the brave kids whose stories are included in our September video series.  In addition to viewing the kids' videos, you can participate in a unique digital journey, in which you can send or receive a Message of Hope.  This digital journey may be accessed through our website or on a mobile device.
Click here.  Enjoy!
HYUNDAI SCHOLARS TELL THEIR STORY

The survival rates of pediatric cancer have seen little improvement in the last two decades. However, through recent advancements in technology, the field has its best chance ever to show quantum leaps. We are proud of the Hyundai Scholar grant recipients, who are doing outstanding research to improve the standards of care and to increase the body of knowledge about the disease.
Our September web video series includes the profiles of several of the 2014 Hyundai Scholar winners.  These Hyundai Scholars are doing some wonderful work in the fight.  Click here to meet Dr. Asneha Iqbal, a 2014 Hyundai Scholar winner from Ann & Robert H. Lurie Children's Hospital of Chicago.
There is also a special Spanish-language message included below from one of our HHOW Medical Advisory Committee members, Dr. Morris Kletzel.
JOINING TIMES SQUARE TO #GOGOLD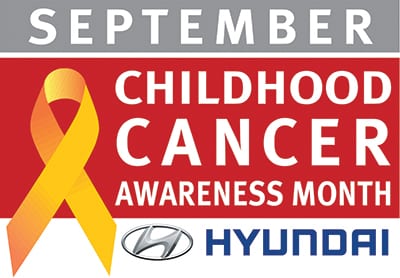 The fight against pediatric cancer lights up Times Square in New York!  We applaud The Times Square Alliance for its plan to Go Gold in September for pediatric cancer awareness.  On Tuesday, 9/2, a dozen or more billboard holders in Times Square have agreed to dedicate their electronic billboards to pediatric cancer awareness.  For one hour, from 8:00 – 9:00 PM EST, each of these electronic billboards will post a Gold Ribbon to show solidarity for the cause.
As a part of the Times Square Go Gold event, there will be a press conference on Tuesday, 9/2, at 8:00 PM EST in Times Square with state and local elected officials, Alliance representatives, dignitaries and supporters of the cause.  HHOW is pleased to have one of our very own National Youth Ambassadors, Ms. Ashley Burnette, participate in this event, where she will address the audience and share her story.
If you are in Times Square on Tuesday, 9/2, stop by the Hyundai billboard.  Come show your support and Go Gold for pediatric cancer awareness.  We also encourage you to take a selfie in front of the Hyundai billboard and share it on social media with hashtag #EndChildhoodCancer.  We will post some of the photos online.
HOPE ON WHEELS VISITS THE CAPITOL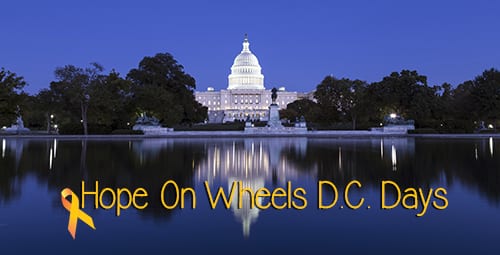 On September 17 – 19, HHOW will host its fifth annual DC Daysevent in Washington, DC.  This event is held in the nation's Capitol to raise awareness for pediatric cancer.  Activities include meetings with legislators, a joint press conference on Capitol Hill, and HHOW handprint ceremonies at local grant-winning children's hospitals.  New this year, we will hold our first annual Thought Leaders' Summit with 2014 Hyundai Scholar Grant recipients.  Some of the leading researchers in the field will address summit participants.
One of the highlights of the event each year is our September Gala.  Local DC-area child cancer survivors, their families, grant-winning doctors and supporters will participate in a Celebration of Life dinner event.  Our National Youth Ambassadors, Ashley Burnette and Kenny Thomas, will join the festivities.
The 2014 HHOW September DC press conference will be held on Friday, September 19, at 8:00 AM EST.  The press conference will be live-streamed.  A link to view the live stream will be shared on our Facebook and Twitter.
HYUNDAI OWNERS: GET INVOLVED!
Hyundai owners are an integral part of the Hope On Wheels family.  We invite you to show your support in the fight against pediatric cancer this September by picking up a window decal at your local Hyundai dealership.  Please proudly display it on your window throughout the month.
For a donation of at least $1, you can get a handprint at a participating Hyundai dealership.  Write a Message of Hope on the handprint, which will be displayed at locations all across the U.S.  Come show your support and be a part of the cause.  A full 100 percent of the proceeds raised will go to pediatric cancer research.
SIGN UP FOR A 5K, BE A CHAMPION!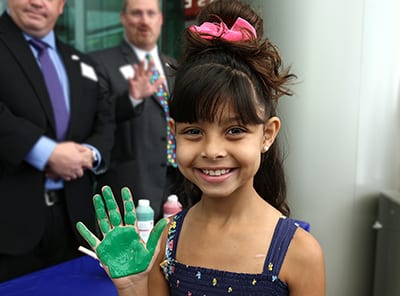 Come out and run for pediatric cancer awareness!  If you live in Miami, FL, Chicago, IL, Boston, MA, or Fountain Valley, CA, we have a 5K race in your area.  These family-oriented events are designed to be fun runs, which raise funds for pediatric cancer research.  All family members are invited, including the four-legged ones.
Race events are: Chicago Half Marathon/Hope On Wheels 5K (9/7); Hyundai Hope On Wheels MCH5K (Miami Children's) Run (9/20); 2014 Boston Marathon Jimmy Fund Walk presented by Hyundai (9/21); and Hyundai Hope On Wheels 5K Race in Fountain Valley (9/28).  Each event will include post-race activities for the family.