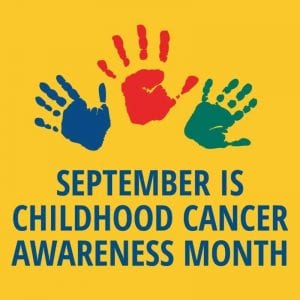 It's September which can only mean one thing – National Childhood Cancer Awareness Month!
Each September all of us at Hyundai Hope On Wheels (HHOW) are proud to bring this issue to the forefront of national conversations.
Annually, HHOW has used the month of September to launch a campaign to raise awareness of childhood cancers, while shining a spotlight on those who are battling this disease. We will be active throughout the entire month of September.
GET INVOLVED
Kids battling pediatric cancer are our sons and daughters, brothers and sisters, neighbors and friends. They are why we fight! Here's how you can join the battle against childhood cancer.
Every Handprint Tells a Story
Our theme in 2016, Give Hope a Hand, allows supporters to Learn, Share, Care, and Give, as a way to help fight against childhood cancer with HHOW. Whether it's sharing a video of a brave child's journey with the disease, posting a virtual handwritten letter of hope or donating to lifesaving research, Give Hope a Hand, serves as a platform to build a strong community of supporters for the cause. We are all in this together, and with many hands, we are stronger.
Visit our newly refreshed website, www.hyundaihopeonwheels.org and let us know how you will be using your hands in the fight against pediatric cancer. Here you can check out some of the other interactive ways you can get involved.
Join us on Facebook or Twitter and share stories of hope using the hashtag #EndChildhoodCancer.
ACTIVITIES
Below are some of the highlights of the events we have planned this month.
Hope on Wheels Research Grants
This month HHOW will award 34 research grants, totaling $7.5 million, to help researchers across the country get closer to the goal of ending childhood cancer. HHOW's newest Scholar Hope Grants will surpass $115 million in research funding to date.
Hope On Wheels Visits Washington D.C.
"D.C. Days" is a series of awareness building initiatives in Washington, D.C., where America's leading pediatric oncologists, policymakers, Members of Congress, Hyundai executives, Hope On Wheels board members and childhood cancer survivors come together to advocate for change.
Thought Leaders' Summit, Washington, D.C.
The third annual Hope On Wheels Thought Leaders' Summit will bring together the country's top pediatric oncologists and this year's Scholar Hope Grant recipients, providing an arena to explore and discuss the progress in childhood cancer research and exchange ideas and new thinking.
2016 Hope On Wheels National September Tour
This September HHOW will be traveling the nation in a Hyundai Tucson to children's hospitals. Scholar Hope Grant winners will join in the signature handprint ceremony event. In select cities, the tour will also feature HHOW National Youth Ambassadors — 13-year-old Ryan Darby from Maryland and 13-year-old Hannah Adams from Florida.
Many of you are truly the cornerstone of your local communities. This role is what makes you an essential figure in the families and friends that have been impacted by pediatric cancer. This September please Give Hope a Hand and join us in the fight to #EndChildhoodCancer.
As always, thank you for your commitment.