Hyundai Hope on Wheels Takes on the Big Apple
For Hope On Wheels, 2015 is the 17th year in our fight against pediatric cancer.  On April 2, we hosted a series of activities in New York City to mark the occasion, and to kick off our 2015 program in supporting research to eradicate pediatric cancer.
Highlights from our New York City events include participation by two dazzling celebrity Ambassadors of Hope, a blogger media event, a Good Morning America appearance by our two fabulous National Youth Ambassadors, and a Check Presentation Ceremony to announce the 2015 grant winners.  We are proud to tell you that Hope On Wheels has now surpassed $100 million in research funding for pediatric cancer.
This newsletter provides a glimpse into our electrifying week in New York City.  But first a greeting from our new Hope On Wheels Chairman, Scott Stark: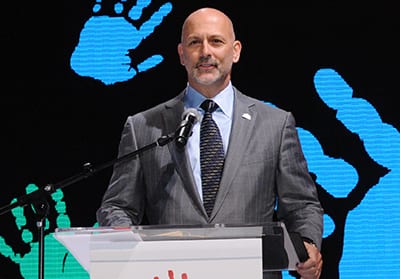 "Hello!  My name is Scott Stark.  I'm president of South Point Hyundai in Austin, Texas, and very pleased to serve as the 2015 chairman of Hyundai Hope On Wheels.  As a father and grandfather, I know what an honor it is to protect our children and to help them achieve their dreams.  I'm delighted to be one of over 800 Hyundai dealers in the country supporting this great cause.
When a family receives the diagnosis that their child has cancer, the news and the experience can be isolating. We want these families to know that they are not alone.  This cause is of prime importance to us, and we are committed to staying in the fight until the end.  We will continue in our efforts to raise awareness and funding to support lifesaving research until not one more child ever has to hear the words, 'you have cancer.'
Thank you for your continued support.  I look forward to another great year in which more lives will be saved."
You can also view a special message from Scott here.
TAKING GOOD MORNING AMERICA BY STORM
Hats off to our superstars, National Youth Ambassadors Ashley Burnette and Kenny Thomas!  These two stole the show on Wednesday, April 1, when they appeared on Good Morning America with their moms.  They accompanied meteorologist Rob Marciano while he presented the forecast, and made special appearances between other segments, winning the hearts of more than 5.5 million viewers.
GMA anchorwoman Robin Roberts, herself a cancer survivor, received a tweet about Ashley and Kenny and showed her support with a re-tweet to more than 950,000 followers.
If you were lucky enough to be in New York City that week, chances are you probably took one of the city's more than 13,000 taxicabs.  From March 31 to April 11, we aired a special Hope On Wheels message on the video monitor inside those cabs.  During this same period of time, we lit up Times Square with a message of hope on our Hyundai billboard, further promoting awareness of pediatric cancer.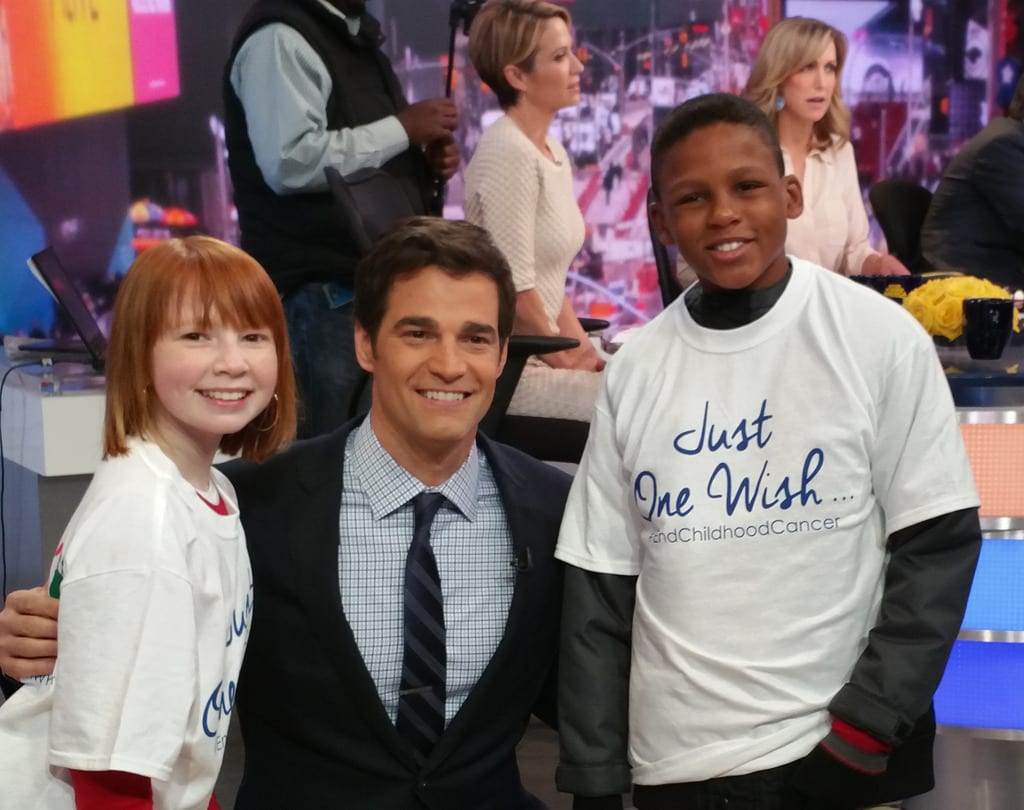 THE MOMS REACHED OUT TO FAMILIES
Hyundai Hope On Wheels had the pleasure of partnering with Sirius XM Radio duo The MOMS (Denise Albert and Melissa Gerstein) at one their ultra-popularMamarazzi events.  This luncheon event hosted a media group of more than 60 prominent mom bloggers.  A panel discussion addressed the effects of pediatric cancer on families, as well as new developments in research and the hope they create for the future.
The panel consisted of several leading oncologists and mothers of pediatric cancer survivors.  Also participating were three moms of Hope On Wheels National Youth Ambassadors: Lori Thomas, Nicole Burnette, and Lorraine Commerford.  These women spoke poignantly about their own personal experiences in caring for a child with cancer, and offered great insights into the hurdles they faced.
Our moderator for the discussion was Emmy Award-winning TV personality Rocsi Diaz.  Rocsi kept the crowd engaged, especially during a Q&A session when guests and panelists exchanged stories and offered up advice straight from the heart.  You can view some of the action in the video here, and see photos from the event in our Facebook album.
2015 CELEBRITY AMBASSADORS OF HOPE
Congratulations to Emmy Winning journalist, Rocsi Diaz, and two-time Grammny Award winning artist, Melanie Fiona.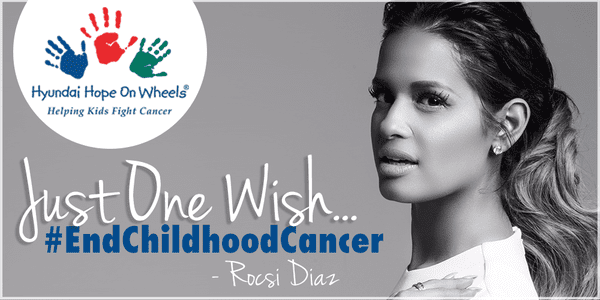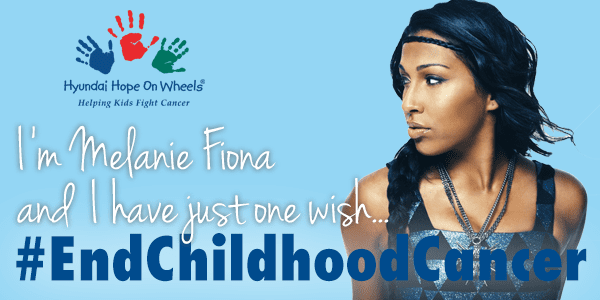 Each is named a 2015 Ambassador of Hope.  Throughout their professional accomplishments, each has demonstrated a value of giving back.  They lend their handprints to the fight against childhood cancer this year. Click here to see Melanie and Rocsi add their handprints to HOW. 
KEEPING THE JAVITS CENTER JUMPIN'!
In celebrating a $100 million milestone in lifetime funding to support pediatric cancer research, we were proud to present Hyundai Scholar Hope grants totaling $1 million to four NY hospitals.  They are: Columbia University Medical Center, Memorial Sloan Kettering, Montefiore Medical Center, and Weill Cornell Medical College.
Serving as our MC for the evening's events was Ms. Rocsi Diaz.  Rocsi was joined onstage by Grammy Award-winning singer Melanie Fiona, who rocked the house with a show-stopping rendition of David Guetta's Titanium.  During her performance, more than 20 kids climbed onstage and honored their moms by presenting each of them with a single red rose.
Melanie and Rocsi, along with Congressman Mike Kelly from Pennsylvania, were each honored with an Ambassador of Hope award for their unwavering support of the Hyundai Hope on Wheels mission.
The event concluded with a Hope On Wheels Handprint Ceremony celebrating the courage and the lives of children with cancer.  Guests were invited to join in, and to share their messages of hope for children everywhere who may be battling this dreaded disease.
You can check out a recap of our launch in this video here.
ONE FAMILY'S MISSION
Promoting Recovery for Cancer Survivor Emily Knerr
Emily was a precious and long-awaited arrival for the Knerr family.  At age six, she began to suffer frequent discomfort, initially thought to be growing pains.  A nurse by profession, mom Amanda Knerr knew that Emily's loss of appetite and severe abdominal pains indicated a more complex problem.  Then a terrifying diagnosis was made: Emily had a small-cell carcinoma, the hypercalcemic type.
Emily was scheduled for immediate surgery, followed by a grueling series of chemo treatments and then two more surgeries.  Amanda knew that Emily needed all the support she could get.  Caring for Emily became the Knerr family's primary focus, her recovery their mission.
Now 12, Emily considers herself lucky and is a proud pediatric cancer survivor.  She is leading a happy and productive life alongside sisters Anna, eight, and Casey, six.  Amanda reflects on the need for new treatments, commenting: "Funding and research will help find new treatments and safe cures for kids.  They heal quickly; they can bounce back if they get the right treatment."  Watch their family's story here.