Hope on Wheels Newsletter April 2015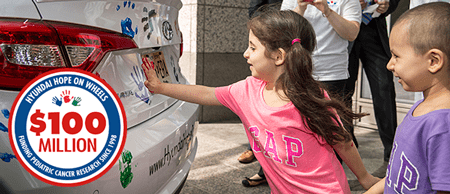 Excitement has been at an all-time high over the last few weeks.  The total of Hope On Wheels funding raised since 1998 to support pediatric cancer research has now surpassed the $100 million milestone. It's an exciting statistic that gives us major encouragement to work even harder to end this disease!
Preparations for the official launch of our 17th-year program in the fight against pediatric cancer have kept us all dancing to beat the band.  Now the day for our annual kick-off is here, and we are gathered in New York City, where the action and energy are electric.
We have an awesome line-up of friends with us for this launch event.  Our two inspirational National Youth Ambassadors, Ashley Burnette and Kenny Thomas, are here again this year, together with their families.  We're also honored to have Grammy-winning R&B singer Melanie Fiona with us, and television host, actress and Emmy-winning journalist Rocsi Diaz.  Both will serve as Ambassadors of Hope, making our launch event week in New York sizzle.
Today Hope On Wheels will also host a blogger luncheon event with celebrity Sirus XM Radio stars,The MOMS, Denise Albert and Melissa Musen Gerstein. The event, entitled Mamarazzi, is for moms affected by pediatric cancer and will be moderated by Denise and Melissa, with special guest host Rocsi Diaz. Throughout this year, The MOMS will be helping us connect with families and moms of kids with cancer as we post photos and videos of courageous family groups in action. We love the positive attitude of The MOMS, and their upbeat approach to parenting.
Also helping to keep this great cause top of mind during the launch will be members of our brilliant Medical Advisory Committee. Hyundai Motor America CEO Dave Zuchowski is joining us, along with our newly elected Hope On Wheels chairman, Scott Stark, a Hyundai dealer in Austin, Texas. A father, grandfather, and dedicated supporter of pediatric cancer research, Scott has been a board member since 2012. We're delighted to welcome him as chair.
There's a lot happening today and we'll be sharing our adventures with our social media followers! Please stay tuned through Facebook, Twitter and Instagram, where you can check out all our launch activities in New York City, and lots of behind-the-scenes photos.
Your support is invaluable, and we send you heartfelt thanks. Together we can put an end to childhood cancer. We will win this fight together!
JUST ONE WISH – TO END CHILDHOOD CANCER
Help Us WIN THIS TOGETHER!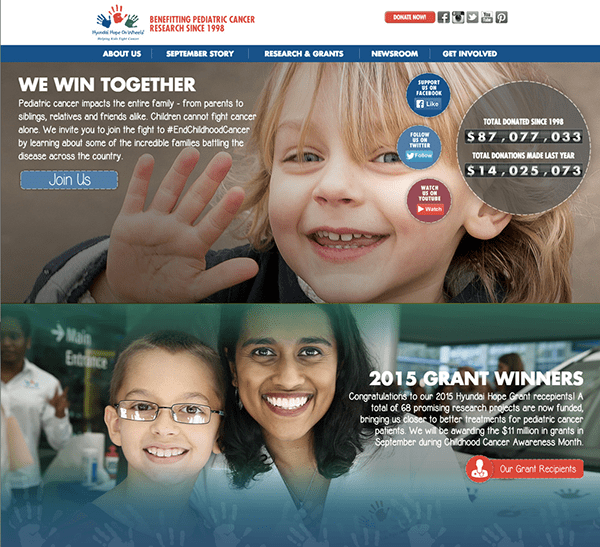 We have one goal: to end pediatric cancer. And we will get there together. So join the action on our website and click on WIN THIS TOGETHER!
There you can check out the brave stories of kids, parents and doctors whose one big wish is for a cure. Parents can post a video of their child to share their stories of courage and hope. Each week a submitted family story will be selected and shared on the Hope On Wheels website and social media channels. We invite you to view their videos and show your support by sharing them; please use the hashtags #EndChildhoodCancer or #HopeOnWheels. Do it now and you'll be helping us move forward.
NEW RESEARCH FUNDING OF $11 MILLION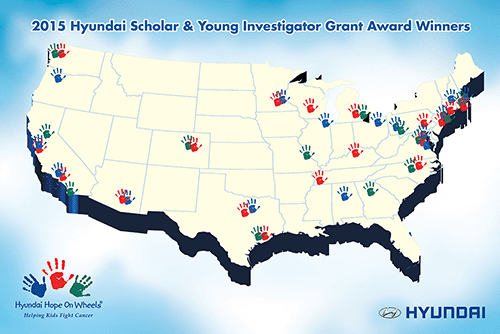 At the launch, grants totaling $11 million will be awarded to 68 select recipients. Our Hyundai Scholar Hope Award of $250,000 supports translational impact research. The Young Investigator Research Award of $150,000 is a grant to support innovative research. And our $50,000 Dealer-Impact Award helps fund programmatic activities at children's hospitals throughout the U.S.
We're proud to partner with these dedicated Next Generation oncologists. We feel very privileged to help enable the invaluable work they do through Hope On Wheels funding.
Please join us! Come with us via social media on our visits to each grant-winning hospital as we present the awards later this year. We'll be holding a handprint ceremony at each location, and sharing photos that you can view on Facebook, Twitter and Instagram. With our hospital visits, we'll be covering a lot of territory to make these awards. Let's take a look!
OUR NATIONAL YOUTH AMBASSADORS ARE BACK!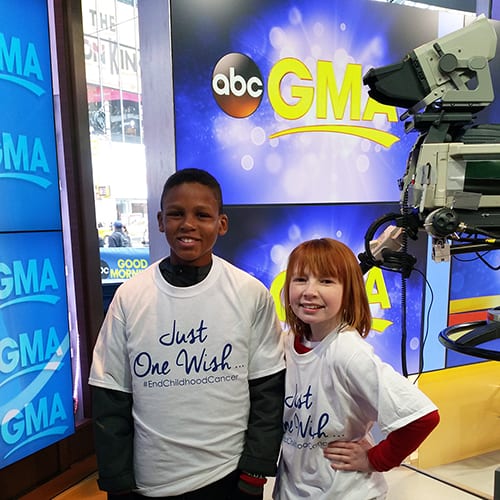 Ashley Burnette and Kenny Thomas Return to the Big Apple
Being a National Youth Ambassador for Hope On Wheels is a tough job. It takes courage, commitment, and an enthusiasm that will inspire kids with cancer and their families to envisage a better future ahead. The appointment of our two National Youth Ambassadors for the 2014 – 2015 term has turned out to be fabulous beyond imagination!
Ashley Burnette, now 11, and Kenny Thomas, 10, are in the second year of their term as ambassadors. Both cancer survivors, Ashley and Kenny have taught us all to THINK BIG. They have each gone to work with an in-depth understanding of the bravery needed to deal with this disease. They have shared their own personal experiences, providing kids around the country with a new perspective – and with inspiration to make their dreams a reality.
If you missed Ashley and Kenny on Good Morning America yesterday, you can see Ashley's story, here, and Kenny's story, here. And see what they've been up to at home with family and friends in these videos.
THE MOMS EXAMINE THE BIG PICTURE
The Effect of Pediatric Cancer on Families and Caregivers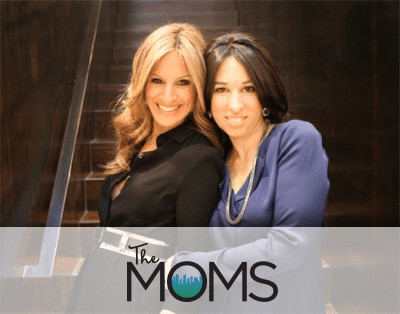 Known for their razor-sharp approach to parenting issues, The MOMS will bring together an eclectic mix of influential participants at a Mom-Blogger media event during our launch today. There will be a panel of oncologists, mothers of pediatric cancer survivors, and media.
Part of the Mamarazzi series, the event will be hosted by Ms. Rocsi Diaz. Discussion topics will include the facts about pediatric cancer; the importance of building awareness; understanding the impact on families and caregivers; and coping skills for families when facing such difficult times.
You can be sure that MOMS Denise Albert and Melissa Musen Gerstein will keep it lively. We'll be telling you more soon.
AN OPEN LETTER FROM A PARENT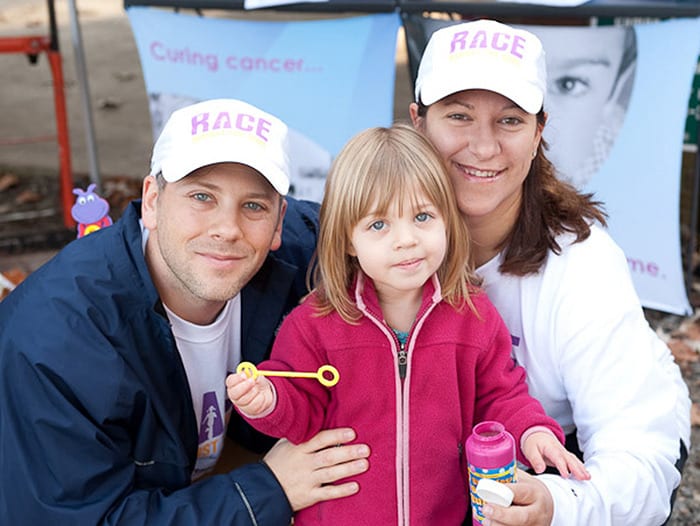 For Alexis and All Those Who Fight
Statistically speaking, eighty percent (80%) of children diagnosed with cancer in the United States are labeled "cured." Despite long-term treatment related acute health issues, secondary malignancies and in many instances a shortened lifespan, a child alive five years from the time of diagnosis with cancer is considered cured. Looking at that statistic from a thirty thousand foot view though, there is the misleading appearance that investment into childhood cancer research is no longer an urgent priority. Or, more importantly, that there is little necessity for finding better, less toxic treatments for those cancers that have successful protocols. As my wife Neely and I found out when our twenty-seven month old daughter was diagnosed with inoperable and terminal brain cancer, this simple statistic does not present an accurate picture. Childhood cancer is on the rise; toxic treatments produce life-long acute health consequences, including early death, and finally, many forms of childhood cancers continue to have an overall dismal prognosis. There is no time for complacency.
For our daughter Alexis, from the beginning the story was not written to fit the eighty percent cure rate; rather, on April 11, 2008 we were told she was terminal upon diagnosis. Much of the portrayal of childhood cancer rests upon the incorrect messaging that there is almost always a universal cure. Prior to childhood cancer knocking on our door, I had the ill-informed conception that children diagnosed with cancer followed a standard path: Chemotherapy for an extended length of time, loss of hair, residence in respite housing and then finally a cure with a long and happy life beyond that. For Alexis, and many other children with cancer I have personally come to know, this standard and perceived path simply is a notion perpetuated by incomplete or inaccurate messaging. Many forms of primary and recurrent childhood cancers have no approved or standard treatment options. Consequently, survival statistics for those forms of childhood cancers have remained depressingly unchanged for decades.
And so, the message and the numbers fail to match with reality. It is not the reality of smiling bald children who live happily ever after. Sadly, I have known more children that have passed away from the diagnosis of cancer or complications from treatment than have been labeled survivors. Childhood cancer is not a single disease that comes with a one-size fits all plan. For those forms of childhood cancer with a better overall prognosis and higher cure rates, most of those children continue to suffer long after they are labeled cured. Better, more effective and less toxic treatments are needed to ensure that all children diagnosed with cancer actually live happily ever after. Children diagnosed with forms of cancer such as DIPG, neuroblastoma, Ewing's Sarcoma, Osteosarcoma, rhabdomyosarcoma, meduloblastoma, and many other forms continue to hold out hope for effective and standardized treatment protocols that provide increased chances of survival that match or exceed the overall statistic of survivorship.
Yes, amazing advances have occurred in the treatment of many forms of childhood cancer. The eighty percent survival statistic is in fact one of hope. Nevertheless, despite the positive message that this figure provides, the urgency and necessity for increased focus upon childhood cancer research and clinical translation has never been more immediately pressing than at the present time. There is much to be proud of in relation to the research that has been funded to date and the results produced therefrom. Amazing scientific discoveries that flow directly from research that is funded through programs like Hyundai Hope On Wheels are made daily.  With that stated, these gains and statistics should not breed stagnation and provide a false sense of success when so many children continue to suffer and do not find a cure. There are real children losing this battle and families grieving. Yes, there is room for pride, and we as a community should be proud of the accomplishments to date. In the end the story of childhood cancer treatment presently is good; but it is not good enough.