Hyundai Hope on Wheels Announces $7 Million in Funding Available for Research in Pediatric Cancer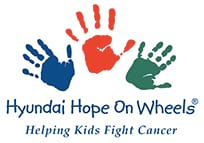 HYUNDAI HOPE ON WHEELS ANNOUNCES $7 MILLION IN FUNDING AVAILABLE FOR RESEARCH IN PEDIATRIC CANCER
FOUNTAIN VALLEY, Calif., December 20, 2016 – Today, Hyundai Hope on Wheels® announced $7 million dollars in available funding for pediatric cancer research. The latest round of funding is another benchmark toward the foundation's effort to find innovative treatments and a cure for childhood cancer.
Hyundai Hope on Wheels® research grants aim to expand the knowledge of pediatric cancer and develop novel approaches for associated tumors. This year, there are two types of grants available: Hyundai Scholar and Hyundai Young Investigator grant. The Hyundai Scholar grant is for $250,000 and the Hyundai Young Investigator grant is for $150,000, both over a period of two years. The awards are limited to Children's Oncology Group ("COG") member institutions in the U.S.
"The Hyundai Scholar and Young Investigator grants offer strategic investments to help provide innovative solutions for the most challenging pediatric cancer cases," said Scott Stark, Board Chairman, Hyundai Hope on Wheels. "By funding early career clinicians, we have a greater chance of improving the quality of life and survival rate of every child fighting cancer."
The Hyundai Scholar Award is presented to scientists involved with translational research and who work directly with pediatric cancer patients. The Hyundai Young Investigator Award provides funding for principal investigators whose research projects are likely to have a significant impact on improving the understanding of the biology of childhood cancer.
"For the past 18 years, Hyundai Hope on Wheels® has funded research targeted at some of the most promising pediatric cancer initiatives in the medical community. We want the kids, their parents and loved ones to know Hyundai Hope on Wheels is fighting with them and will not stop until we find a cure to end childhood cancer," said Zafar Brooks, Executive Director, Hyundai Hope on Wheels.
Applicants will be notified by April 3, 2017 on grant selections.
For more information about Hyundai Hope on Wheels and to view a list of our 2016 grant recipients, please visit www.hyundaihopeonwheels.org/research. You can also follow us on Facebook, Twitter or Instagram at Facebook.com/HyundaiHopeOnWheels, Twitter.com/HopeOnWheels or Instagram.com/HyundaiHopeOnWheels.
HYUNDAI HOPE ON WHEELS
Hyundai Hope on Wheels® is a 501(c)(3) nonprofit organization that is committed to finding a cure for childhood cancer. Launched in 1998, Hyundai Hope on Wheels provides grants to eligible institutions nationwide that are pursuing life-saving research and innovative treatments for the disease. Primary funding for Hyundai Hope on Wheels comes from Hyundai Motor America and its more than 820 U.S. dealers. Hyundai Hope on Wheels has awarded more than $100 million towards childhood cancer research in pursuit of a cure.
HYUNDAI MOTOR AMERICA
Hyundai Motor America, headquartered in Fountain Valley, Calif., is a subsidiary of Hyundai Motor Co. of Korea. Hyundai vehicles are distributed throughout the United States by Hyundai Motor America and are sold and serviced through more than 820 dealerships nationwide. All Hyundai vehicles sold in the U.S. are covered by the Hyundai Assurance program, which includes the 5-year/60,000-mile fully transferable new vehicle limited warranty, Hyundai's 10-year/100,000-mile powertrain limited warranty and five years of complimentary Roadside Assistance. Hyundai Blue Link Connected Care provides owners of Hyundai models equipped with the Blue Link telematics system with proactive safety and car care services complimentary for one year with enrollment. These services include Automatic Collision Notification, Enhanced Roadside Assistance, Vehicle Diagnostic Alert, Monthly Vehicle Health Report and in-vehicle service scheduling.
###