Zuri Hall to Emcee Hyundai Hope on Wheels Celebration of Life Gala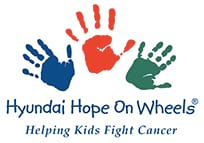 ZURI HALL TO EMCEE HYUNDAI HOPE ON WHEELS CELEBRATION OF LIFE GALA
Washington, DC – September 22 – E! News star Zuri Hall will emcee Hyundai Hope On Wheels's Celebration of Life Gala in celebration of the brave childhood cancer survivors during Childhood Cancer Awareness Month. The Celebration of Life Gala is one of several special events taking place in the Washington, DC area in September in honor of Childhood Cancer Awareness Month.
Zuri Hall is an Emmy-award winning journalist, actress, philanthropist and host of E! News. Her YouTube channel for girl talk and style has over 90K subscribers and has garnered over 5 million views.
"It's truly an honor for me to be a part of a celebration with so many brave children, families and champions in support of a cause in need of as many voices as it can get," said Zuri Hall. "Being with so many champions of the cause tonight is inspiring, and I hope I can inspire others to get involved."

"Our mission at Hyundai Hope On Wheels is clear: End Childhood Cancer," said Dave Zuchowski, President and CEO of Hyundai Motor America. "We are thrilled to have Ruth B and Zuri with us at the Celebration of Life Gala as we commemorate Childhood Cancer Awareness Month and continue to raise awareness about childhood cancer. There may be a lot more work to do, but this event gives us a chance to reflect on all of the successes we have had over the last two decades and look forward to a future without childhood cancer. "
2016 National Call To Action: Give Hope A Hand
In addition to funding a multitude of research projects this September, HHOW is encouraging the public to contribute to the fight against childhood cancer in a personal way. The journey begins with one simple request: Give Hope A Hand. We invite visitors to the newly refreshed website at hyundaihopeonwheels.org, to tell how they will use their hands in the fight against pediatric cancer. Once there visitors can Learn + Care + Do + Give = Hope. There are a number of additional engaging, interactive ways the public can get involved and use their hands for good.
HYUNDAI HOPE ON WHEELS
Hyundai Hope On Wheels® is a 501(c)(3) nonprofit organization that is committed to finding a cure for childhood cancer. Launched in 1998, Hyundai Hope On Wheels provides grants to eligible institutions nationwide that are pursuing life-saving research and innovative treatments for the disease. HHOW is one of the largest nonprofit funders of pediatric cancer research in the country, and primary funding for Hyundai Hope On Wheels comes from Hyundai Motor America and its more than 830 U.S. dealers. Since its inception, Hyundai Hope On Wheels has awarded more than $115 million towards childhood cancer research in pursuit of a cure.
-more-
To learn more about Hyundai Hope On Wheels, please visit www.HyundaiHopeOnWheels.org or follow us on social media at www.facebook.com/HyundaiHopeOnWheels, www.twitter.com/hopeonwheels,
and www.youtube.com/hopeonwheels.
HYUNDAI MOTOR AMERICA
Hyundai Motor America, headquartered in Fountain Valley, Calif., is a subsidiary of Hyundai Motor Co. of Korea. Hyundai vehicles are distributed throughout the United States by Hyundai Motor America and are sold and serviced through more than 830 dealerships nationwide.
Please visit our media website at www.hyundainews.com and our blog at www.hyundailikesunday.com
Hyundai Motor America on Twitter | YouTube | Facebook
# # #