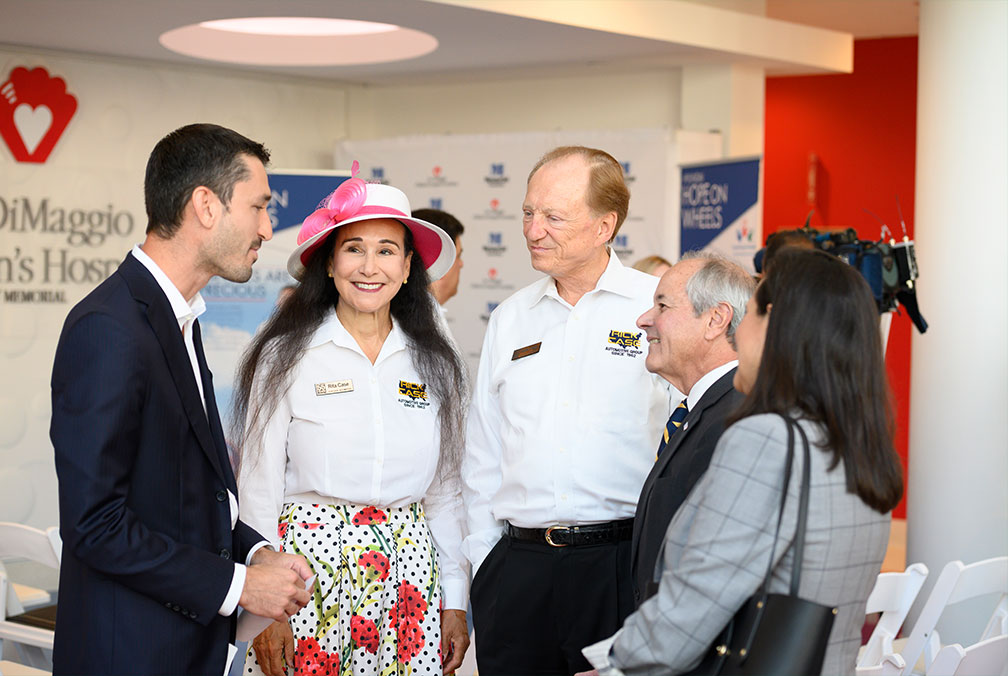 21 years of saving lives and creating hope in the fight against pediatric cancer is a great achievement and we can't wait to launch one of our largest efforts to support our community during National Childhood Cancer Awareness Month.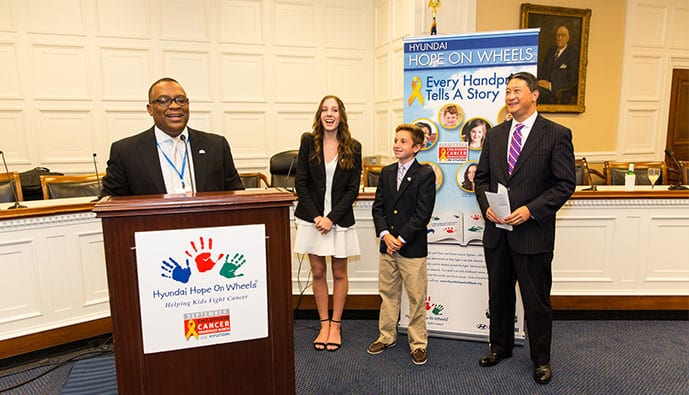 DC DAYS
WASHINGTON DC
DC Days features a National Press Conference, where many of the country's leading pediatric oncologists, policymakers, Hyundai Motor America executives and HHOW board members are in attendance. Pediatric cancer survivors, including Hope On Wheels National Youth Ambassadors (NYA), 14-year-old Carter from Colorado and 13-year-old Elizabeth from Arizona, address participants and share their moving stories about their first-hand experiences with cancer.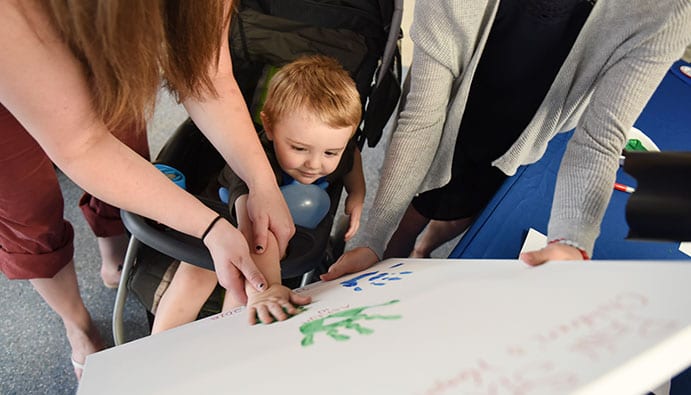 Boston Marathon Jimmy Fund Walk
BOSTON, MA
Our team of Hope will support another great cause: the "Jimmy Fund." Look for highlights from the race and the handprint ceremony at the Dana Farber Cancer Institute.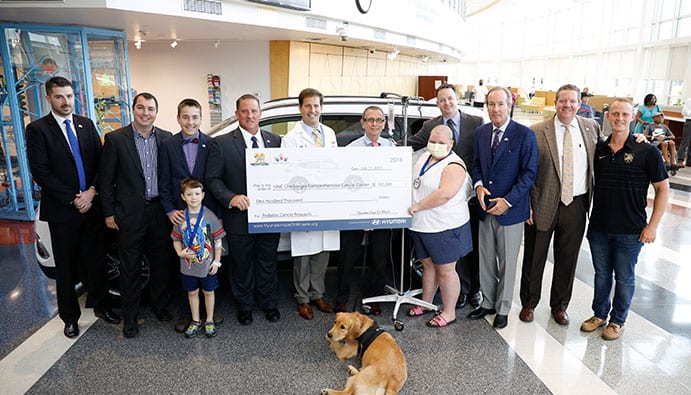 National Popups
NATIONWIDE
Throughout the month we will be traveling across the country hosting pop-up handprint ceremonies to help spread awareness for childhood cancer. We will be in cities like Washington D.C., Denver, Phoenix, and Los Angeles, so we encourage you to follow our social channels and track our journey.
5k / 10k Run-4-Hope
ORANGE COUNTY, CA
Our 21st anniversary celebration will wrap up with our 10th Annual Run-4-Hope in Fountain Valley, CA. There are several ways you can get involved with the race.
September 4th
$200,000 awarded Kansas City, MO
The Children's Mercy Hospital
September 4th
$500,000 awarded Madison, WI
University of Wisconsin – Madison
September 4th
$500,000 awarded St. Louis, MO
St. Louis Children's Hospital Foundation
September 5th
$300,000 awarded New York, NY
NYU Langone Health
September 6th
$500,000 awarded Houston, TX
Texas Children's Hospital
September 6th
$200,000 awarded Bronx, NY
Montefiore Medical Center
September 6th
$500,000 awarded New York, NY
Memorial Sloan Kettering
September 9th
$200,000 awarded Aurora, CO
Children's Hospital Colorado
September 9th
$300,000 awarded Charlottesville, VA
University of Virginia
September 9th
$300,000 awarded New Haven, CT
Yale University
September 10th
$200,000 awarded Chapel Hill, NC
The UniversIty of North Carolina at Chapel Hill
September 10th
$300,000 awarded Miami, FL
University of Miami
September 11th
$500,000 awarded Palo Alto, CA
Lucile Packard Foundation for Children's Health
September 11th
$300,000 awarded San Francisco, CA
UCSF Benioff Children's Hospitals
September 11th
$500,000 awarded Atlanta, GA
Aflac Cancer and Blood Disorders Center
September 12th
$300,000 awarded Gainesville, FL
UF Health
September 13th
$300,000 awarded Minneapolis, MN
University of Minnesota
September 16th
$500,000 awarded Los Angeles, CA
UCLA Mattel Children's Hospital
September 16th
$200,000 awarded Cleveland, OH
University Hospitals Cleveland Medical Center
September 17th
$300,000 awarded Los Angeles, CA
Children's Hospital Los Angeles
September 17th
$500,000 awarded Ann Arbor, MI
University of Michigan
September 18th
$500,000 awarded Baltimore, MD
Johns Hopkins University School of Medicine
September 18th
$300,000 awarded Washington, D.C.
Georgetown University
September 20th
$300,000 awarded Boston, MA
Massachusetts General Hospital
September 22nd
$500,000 awarded Boston, MA
Dana Farber Cancer Institute
September 23rd
$300,000 awarded Worcester, MA
University of Massachusetts Medical School
September 23rd
$500,000 awarded Memphis, TN
St. Jude Children's Research Hospital
September 23rd
$300,000 awarded Dallas, TX
Children's Medical Center Foundation
September 24th
$300,000 awarded Birmingham, AL
Alabama Center for Childhood Cancer and Blood Disorders
September 24th
$500,000 awarded San Antonio, TX
UT Health San Antonio
September 25th
$300,000 awarded Seattle, WA
Fred Hutchinson Cancer Research Center
September 25th
$500,000 awarded Pittsburgh, PA
Children's Hospital of Pittsburgh Foundation
September 26th
$200,000 awarded Portland, OR
Oregon Health and Science University
September 26th
$300,000 awarded Hershey, PA
Penn State Children's Hospital
September 27th
$300,000 awarded San Diego, CA
Rady Children's Hospital
September 27th
$500,000 awarded Philadelphia, PA
Children's Hospital of Philadelphia