Helping Kids Fight Cancer.
Through no fault of their own, cancer strikes at a time when kids just want to be kids. They have dreams, goals and so much to contribute but have to spend those countless moments on surviving.
During Childhood Cancer Awareness Month, we are helping them share their journeys by having them leave their mark with a handprint. Every handprint tells a story; stories of hope, love, care and courage. It is Hyundai Hope On Wheels' mission to get us closer to a cure and with your help and the help of the very talented researchers across the country, we can finally put an end to childhood cancer.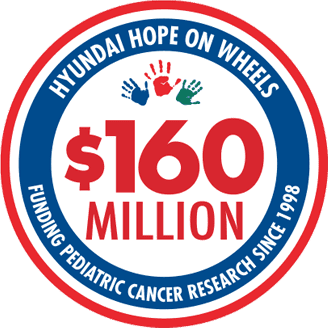 Every Minute. Every Second. Every Handprint, Counts.
Every day we fight to get one step closer to finding a cure to end childhood cancer. Since 1998, Hyundai and its dealers have donated over $160 million to Hyundai Hope On Wheels for pediatric cancer research. These dollars go to support life-saving research and better treatment options for children with cancer.
This year, we will visit children's hospitals from across the U.S., delivering grants for new research and inspiring hope. Every dollar counts. Every child deserves to win. Minutes are precious in the fight to end childhood cancer.
Scroll over the Timeline to View Our Story

DC DAYS
Follow us as we celebrate our 77 grant winners from September 18-20 in Washington D.C. – See Details
National Youth Ambassadors